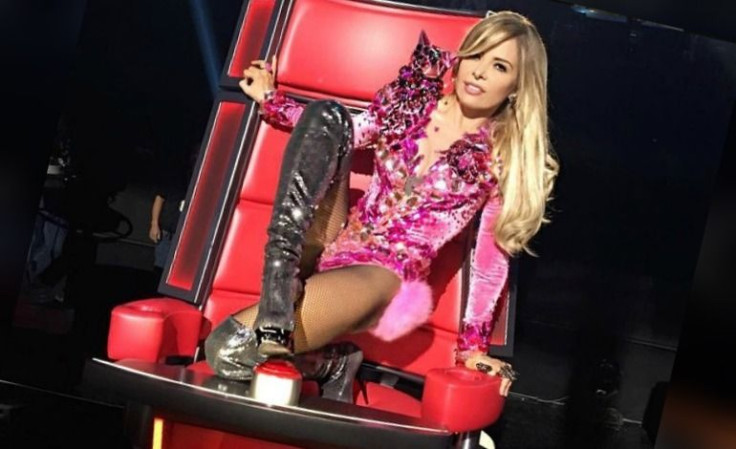 Things are not looking so great for "La Voz Mexico" in its fifth season and producers are allegedly disappointed with coaches Alejandro Sanz, Los Tigres del Norte, J Balvin and Gloria Trevi.
According to TVNotas, producer Miguel Ángel Fox blames the new coaches for the lack of ratings the show has been receiving. It seems though, that Fox depends mainly on Trevi and her explosive, controversial personality for ratings to increase. "The producer asked all of the coaches to give it their all, to shine more, to have fun and interact with people," said a crew member to TVNotas, noting that Fox pressures Trevi the most because of her lack of personality.
"He asks her to do whatever it takes to grab the attention of the viewers and media," they noted. "He wants her to throw herself on the floor, to rip her tights, to get men naked, and to be scandalous, because according to him [Miguel Angel Fox], that's what everyone expects from her."
The 48-year-old songstress, however, does not agree with the producer and has in fact told him many times that she is serious with her gig as coach.
Refusing to create scandal on the show and channel her "Pelo Suelto" days, Trevi stated that her concerts and "La Voz Mexico" are two different things. According to TVNotas, Trevi is open to making jokes and having a good time with her fellow colleagues, but she is very responsible as a coach.
The crew member told TVNotas that Fox is supposedly disappointed at the other coaches as well -- Los Tigres del Norte because they seem out of place; J Balvin because he does not have enough trajectory to train an upcoming artist; and Sanz because although he won the first season of "La Voz Mexico" with contestant Oscar Cruz, he does not fulfill his promises as coach.
© 2023 Latin Times. All rights reserved. Do not reproduce without permission.