Rajon Rondo was one of the unsung heroes for the Los Angeles Lakers in their 2020 NBA title conquest. The 34-year-old started the playoffs on the wrong foot, suffering an injury that kept him on the sidelines. But when crunch time came, the four-time NBA All-Star answered the call, particularly in the pivotal Game 6.
There is no question that Rondo is a grizzled veteran who does things most do not see. He is a good defender and a great facilitator that helps keep things in order. He is also like a coach on the court, vocal and someone who tries to egg on his teammates. After winning his second NBA title, the 6-foot-1 guard is now going to try and look to get better pay this offseason.
Rondo is reportedly opting out of his deal where he would be earning $2.6 million for the 2020-21 season. This means that if the Lakers want him to return, they need to give Rondo a much-needed raise moving forward.
So opting out does not necessarily mean Rondo wants to bolt the Lakers' camp. Rather it is a move to try and see which team would hand him a reasonable offer next season.
"I'm definitely going to entertain it," Rondo said on ESPN's "First Take." "Obviously, always thinking about running it back with a great group of guys and coaching staff. I can't thank those guys enough for giving me a shot the last couple of years. It's been amazing playing for this organization."
Looking at his production in the NBA playoffs, Rondo hardly put up impressive numbers. He normed 8.9 points, 6.6 assists and 4.3 rebounds. With those stats, most would likely say Rondo is lucky to get that $2.5 million paycheck. However, his value goes beyond that as mentioned earlier on.
Rondo is also a rare breed. After winning his second NBA title with the Lakers, he becomes only the second cager to do it with the Lakers and the Boston Celtics. The first one to achieve the feat is Clyde Lovellette. He won his first championship with the Minneapolis Lakers in 1954 and win two more with the Celtics in 1963 and 1964. Ironically, both of them are four-time NBA All-Stars.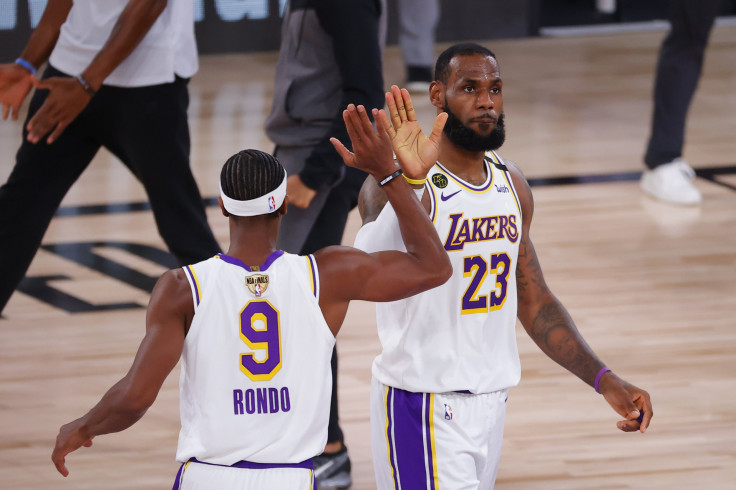 © 2023 Latin Times. All rights reserved. Do not reproduce without permission.