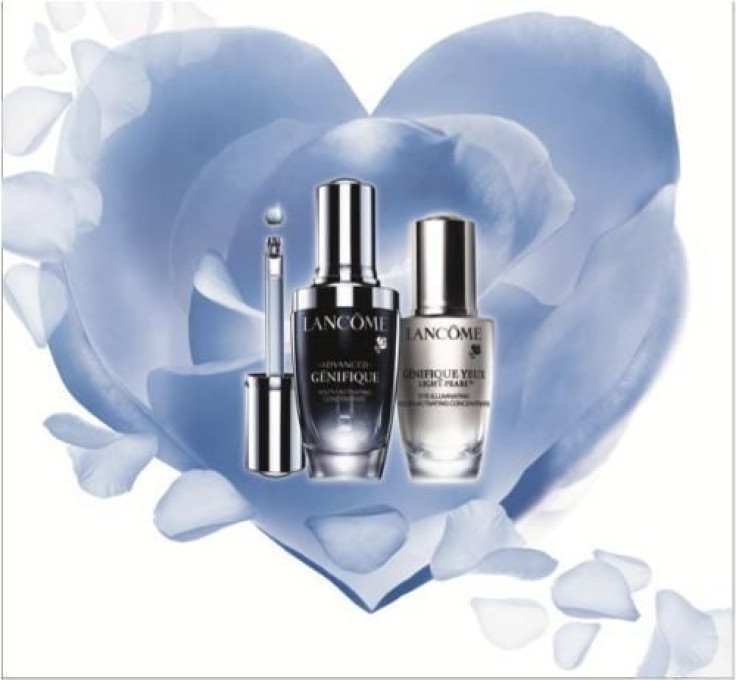 Starting today, Lancome kicks off the fifth annual Genifique Day initiative to benefit St. Jude Children's Research Hospital. Throughout the month, Lancome will be raising funds for the cause through a social media campaign, regional in-store events and a final celebratory weekend on Friday, October 24th and Saturday, October 25th, 2014. From September 29th until October 25th, the brand invites you to Instagram or Tweet your hands in the shape of a heart and post to social media with the #LancomeGivesBack hashtag, and the brand will make a $1 donation to St. Jude in your honor (up to the $20,000 goal). During eight regional events and on October 24th and October 25th, Lancome will donate $7 directly to St. Jude Children's Research Hospital for every bottle of Advanced Genifique Youth Activating Concentrate, Genifique Eye Light-Pearl or Genifique Yeux sold, to underscore Genifique's 7-day radiance results.
"Thanks to Lancome and other supporters, St. Jude Children's Research Hospital is leading the way the world understands, treats and defeats childhood cancer and other life-threatening diseases," says Richard Shadyac Jr., President and CEO of ALSAC/St. Jude Children's Research Hospital. "Our founder Danny Thomas believed that no child should die in the dawn of life. To fulfill this promise, St. Jude depends on initiatives like national Genifique Day to support the life-saving research and treatment conducted at the hospital, and ensure that no family ever receives a bill from St. Jude for treatment, travel, housing or food."
Each year, in honor of national Genifique Day, hundreds of thousands of dollars in vital donations are raised for St. Jude. Each Genifique bottle sold helps the hospital find cures. It costs, $2 million a day to operate the hospital, so 21 bottles can pay for one night of family housing. Nine bottles could cover one blood count test. Five bottles can buy a day of meals. And just three bottles could pay for one bone marrow needle. It's that easy to make a difference and your individual contribution can help in so many ways.
"I'm honored to be affiliated with a brand such as Lancome that supports such a worthy and meaningful cause," Lancome ambassadress Lupita Nyong'o states. "Growing up, I witnessed doctors in my own family work tirelessly to restore the health of people around them. I understand how important it is to support efforts to find cures for critical diseases, and I therefore proudly support the work that St. Jude is doing, especially in pediatric cancer, to help the children there lead better, healthier lives."
To support national Genifique Day, Celebrity Makeup Artist Mickey Williams is hosting events at select Lancome counters throughout October. Williams explains, "I love the Genifique collection, because it helps makeup apply effortlessly thanks to the formula's transformative, radiance-boosting benefits." Williams adds, "Just as with makeup, premium skincare elevates our quality of life, allowing women to feel their best each day."
Customers can go in for a complimentary makeover by Williams, then document and share your camera-ready look in the Lancome photo booth. Visit Mickey Williams during the following Genifique Day regional events:
Dillard's Houston Galleria/Post Oak 4925 Westheimer, Houston, TX 77056 Thursday, October 9, 2014; 12 – 5 PM
Dillard's Dallas – North Park 8687 North Central Expressway, Dallas, TX 75225 Friday, October 10, 2014; 12 – 5 PM
Dillard's – Summerlin 11011 Sage Park Drive, Summerlin, NV 89135 Saturday, October 11, 2014; 12 – 5 PM
Dillard's – Sarasota 200 University Town Center, Sarasota, FL 34243 Friday, October 17, 2014; 12 – 5 PM
Dillard's Tampa – International Mall 2223 North West Shore Blvd, Tampa, FL 33607 Saturday, October 18, 2014; 12 – 5 PM
Dillard's Orlando Florida Mall 8001 South Orange Blossom Trail, Orlando, FL 32809 Sunday, October 19, 2014; 12 – 5 PM
Dillard's Memphis – Wolf Chase 2700 North Germantown Road, Memphis, TN 38133 Thursday, October 23, 2014; 10AM – 3PM
Macy's – Herald Square Herald Square, New York, NY 10001 Friday, October 24, 2014; 10AM – 3PM
The Genifique collection serves as the epitome of Lancome's commitment to helping women look and feel their overall best. Inspired by cutting edge science, Genifique's award-winning formula infuses skin with radiance while visibly reactivating the 10 key signs of youth.
© 2023 Latin Times. All rights reserved. Do not reproduce without permission.