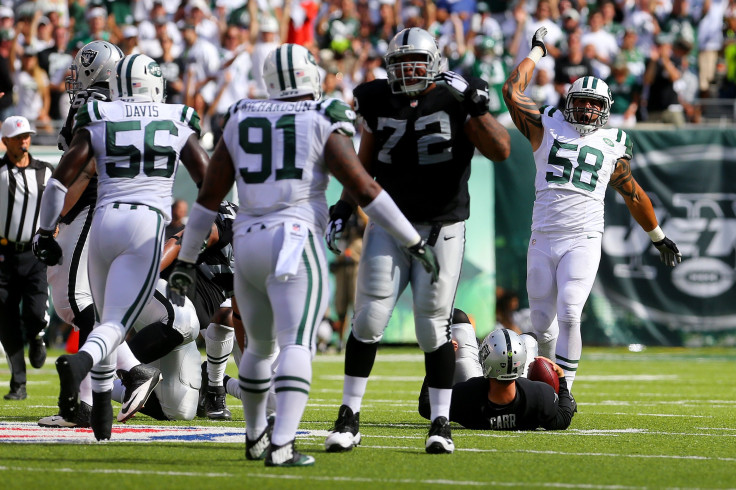 Monday Night Football hosts a compelling matchup of two teams who are polar opposites. The Chicago Bears like to air the ball out, spreading passes between their tall and athletic receivers. They are among the last in the league at running the ball on offense and stopping it on defense. The New York Jets on the other hand are among the league's worst at passing, but among the league's best at running the ball and stopping the run.
Both teams are also coming off complete opposite results in their previous game. The Bears stunned the 49ers last week on Sunday Night Football as they scored four touchdowns in the second half to comeback from 18 points down. Conversely, the Jets held an 18 point first half lead of their own only to see it disappear in the 4th quarter as they lost 31-24.
The NFL is celebrating Hispanic Heritage Month and both teams' rosters are littered with Latino talent. The Chicago Bears showcase centers, Roberto Garza and Brian De La Puente, while the Jets feature an offensive lineman of their own in Willie Colon. The Jets have more Latinos than any other team in the NFL, as they will also highlight Defensive End, Jason Babin and wide-receiver Greg Salas.
Led by their Latino linemen, the Bears know they need to run the ball with all-pro running back Matt Forte in order to be successful.
"We need to run the ball," Chicago's offensive lineman, Kyle Long said. "I know we got the win on the road, and it was big. I'm sure everybody else in our room will echo that. So will Matt. You need to run the ball in the National Football League, and we'll be better at that."
The Bears will have to be better against a Jet's team that is allowing just 52.5 yards on the ground this season. The Bears are battling injuries as they lost 5 starters on defense last week including Charles "Peanut" Tillman for the season. Despite their injuries, they have enough on offense to give the Jets cornerbacks fits. The Bears wide receivers Brandon Marshall and Alshon Jefferey should have big games as Chicago beats the Jets at Met Life Stadium.
My Prediction: Bears 20, Jets 17
Betting odds courtesy of Bovada.lv:
Chicago Bears: +3 (-125) / +150 Moneyline
New York Jets: -3 (+105) / -170 Moneyline
Over/Under: 44.5
© 2023 Latin Times. All rights reserved. Do not reproduce without permission.