President Joe Biden's support from nonwhite voters has declined since 2020 when he got more than 70% among this group, a compilation of New/ York Times/Siena College polls over the last year shows.
According to the pollsters, on average Biden leads Donald Trump by 53% to 28% among registered nonwhite voters.
New York Times/Siena College published the results of a compilation of polls from 2022-2023, which includes over 1,500 respondents.
The results show that Biden has lost at least 17 points in a hypothetical match-up against Trump, meaning the current president would run a tight race against the Republican contender should he get nominated by his party.
The data suggests a disparity in support for Biden among different demographies among nonwhite voters. Among blacks, Biden holds a lead of 72% against 11 for Trump. The margin is tighter among Hispanics: 47-35%.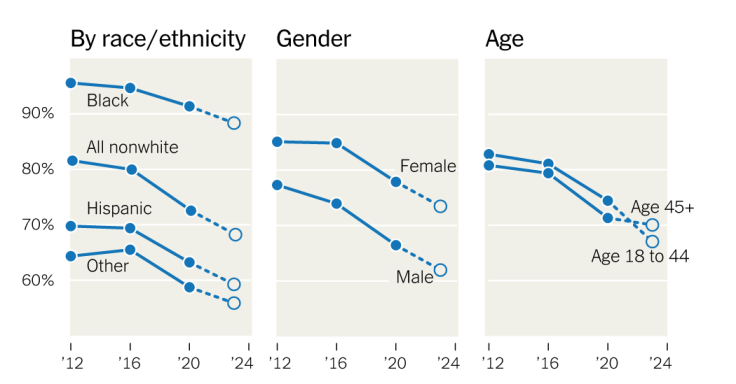 In a July 2023 analysis of the 2022 midterm elections, the Pew Research Center concluded that while Hispanic voters continued to support Democrats that year, the margin was smaller than in 2018.
In 2022, the Pew Center says, Hispanic voters favored Democratic candidates by a 21-point margin, compared with a 47-point margin in 2018.
Blacks, the Pew Center said, maintained their support for Democratic candidates with 93% of the vote in 2022, similar to levels shown in 2020, 2018 and 2016.
© 2023 Latin Times. All rights reserved. Do not reproduce without permission.