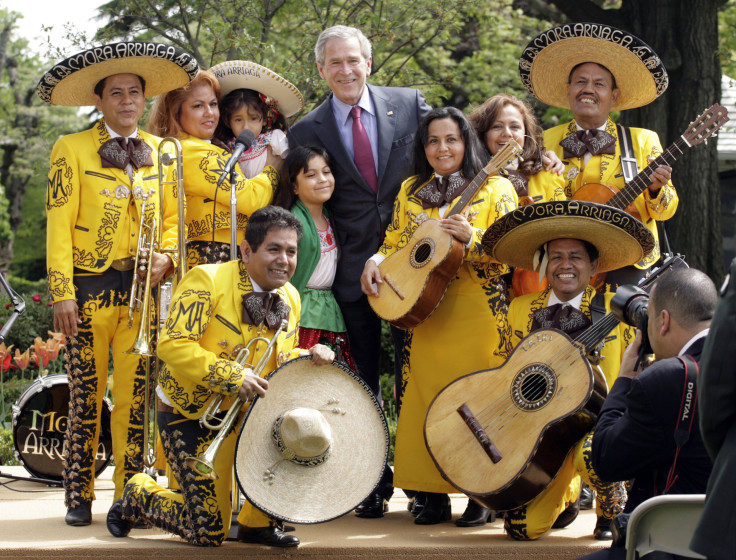 How important will Latinos be in the 2016 election? If history is any indicator, not so much. Unlike other minority groups, Latinos make up a huge percentage of those eligible to vote, but a very low percentage of those who make it to the polls. This year there will be around 27 million Latinos eligible to vote, around 12 percent of the electorate, up from 10 percent in 2012. In many battleground states like Colorado, Nevada and Florida, the number is even higher. But more Latinos has not translated into tons of Latino voters, because the voter registration and turnout rates are abysmally low. Slightly half of eligible Hispanic voters have failed to make it to the polls in pretty much every presidential election that we know about.
Thanks to a clever GIF shared by Pew Research editor Jens Manuel Krogstad, you can watch this tragic self-perpetuated disenfranchisement play out over time. The chart below shows Hispanic population rising, as Latino voter turnout tries to catch up, like a younger sibling trying to become the same age as an older one. Just eyeing the graph, you might expect the 2016 voter turnout to peak at just about 10 million. Democrats, immigration advocates, and Latino groups are betting that they can increase that number through voter drives. Anecdotal reports show that disdain for Donald Trump is putting wind in their sails this year, and that could lead to an uptick in naturalizations and voter registrations among Hispanics residing in the U.S.
To look at it another way, Hispanics have relatively lower voter turnout than other ethnic and racial groups. A 2012 Census report shows how much lower than other groups. Note the spike in black voter turnout in 2008, the year that Barack Obama ran for his first term. Could Cuban-American Ted Cruz inspire a similar spike? How about a Latino on the ticket for VP, such as Julian Castro or Susana Martinez? Let us know your thoughts on the potential of the Latino vote in the comments below.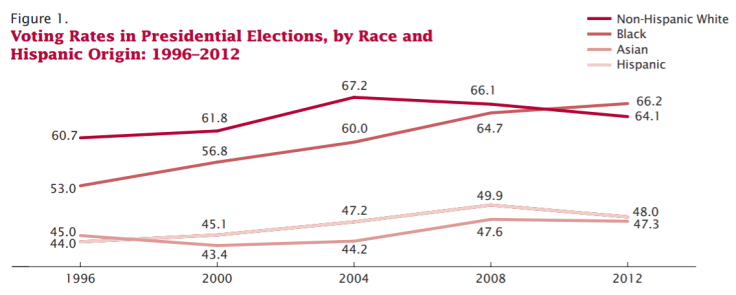 © 2023 Latin Times. All rights reserved. Do not reproduce without permission.