Los Angeles Lakers jersey six holder LeBron James has reportedly flown back to Los Angeles. He will be placed under the NBA's health and safety protocols until further notice after testing positive for COVID-19 on Tuesday.
According to TMZ Sports, "King James" tested positive for COVID-19 this afternoon using a lateral flow test but then returned a negative result in his follow-up PCR test. A subsequent third tie-breaker test would, however, come back positive, meaning LeBron will miss tonight's game against the Sacramento Kings.
The Lakers also will play without their starting guard Avery Bradley in Sacramento due to a thumb injury.
Coach Frank Vogel confirmed the team arranged for James to travel back to Los Angeles after learning the star player would be headed for the protocols early Tuesday morning.
"It's a huge loss. It's disappointing," Vogel said before the game in Sacramento. "We just want the best for him right now. That's where our thoughts are. And we have a next-man-up mindset."
Under the NBA rules, vaccinated players like James must enter the protocols following either positive or inconclusive test results. Should the four-time NBA Finals MVP award recipient return favorable results on consecutive tests 24 hours apart, he may reportedly play again.
So far, James remains asymptomatic, and if this continues for the next 10 days, he may soon join his team back in the court.
LeBron, who has been selected as part of the NBA 75th Anniversary Team this year, has previously stopped short at encouraging others to get the jab, arguing it is a personal choice.
"We're talking about individuals' bodies," LeBron said in September. "We're not talking about something that's political, or racism, or police brutality. Things of that nature. We're talking about people's bodies and wellbeing."
CBS Sports noted that upon entering the new campaign, the Lakers started sluggishly at 11-11, sitting eighth in the Western Conference. LBJ being out of the lineup many times this season is certainly not helping the team recover from their poor performance.
James previously missed several games this season due to several injuries, including an ankle injury that kept him from playing twice in October and an abdominal injury that cost him eight games.
His injuries were followed by a one-game suspension for striking Pistons forward Isaiah Stewart, according to the Los Angeles Times. The incident saw Stewart suspended for "repeatedly and aggressively pursuing" James, according to the NBA.
"[This season] ranks right at the top of any other challenge I've had in my career, which brings out the best in me and I love that," James said after beating Detroit on Sunday.
"I love trying to figure out how we can be better, get through the mud, get through the adversity, and just make it sweeter on the back end...We're gonna continue to get better and better as we continue to learn each other more and more, continuing to work into our system offensively and defensively," he continued.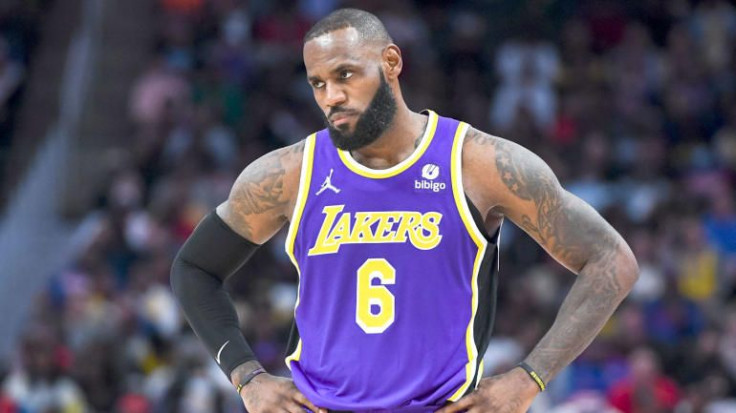 © 2023 Latin Times. All rights reserved. Do not reproduce without permission.