Lionel Messi recreated the iconic image of his icon Diego Armando Maradona after his team Argentina won the 2022 FIFA World Cup on Sunday, Dec. 18.
After Argentina won the World Cup in 1986, one of the most iconic pictures in football history was taken. In the photograph, football legend Diego Armando Maradona can be seen holding the World Cup in his hands as he is carried out of the Azteca Stadium while on someone's shoulders. After Argentina's World Cup win on Sunday, Messi recreated the same photograph, MARCA reported.
Just like his idol Maradona, Messi managed to get his photo taken while being carried on someone's shoulders. However, in Messi's case, it was his great friend Sergio Aguero who didn't hesitate in grabbing Messi before carrying him all over the field.
Aguero and Messi both shared their football career in the youth ranks of the Argentina national team and the senior national team. Aguero even shared a room with Messi during this World Cup.
Argentina's remarkable victory over France on Sunday also put an end to a 36-year World Cup drought for the nation. Argentina hadn't won the FIFA World Cup since Diego Maradona and the team won the title in 1986, InsideSport reported.
Meanwhile, Messi, who had declared before the World Cup in Qatar that the 2022 FIFA World Cup would be his last, also won the Golden Ball for best player in the tournament. Meanwhile, Martinez was awarded the Golden Glove for best goalkeeper. Enzo Fernandez was adjudged the winner of the Best Young Player award. Meanwhile, Kylian Mbappe finished as the top scored of the tournament with eight goals and received the Golden Boot.
Like Messi, Maradona also steered Argentina to their historic victory in 1986. Maradona scored the famous "Hand of God" and "Goal of the Century" in that same tournament's quarterfinal match against England. In the 1986 World Cup tournament, Maradona scored five goals. Like Messi, Maradona was also handed the Golden Ball award that year as he was head and shoulders above the competition throughout.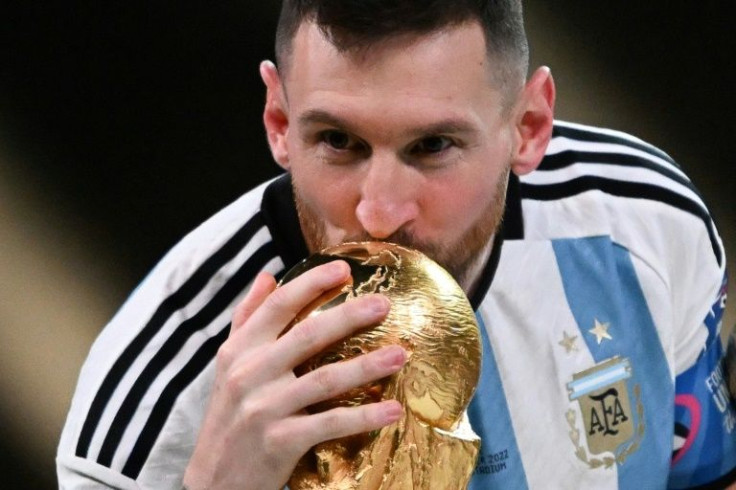 © 2023 Latin Times. All rights reserved. Do not reproduce without permission.