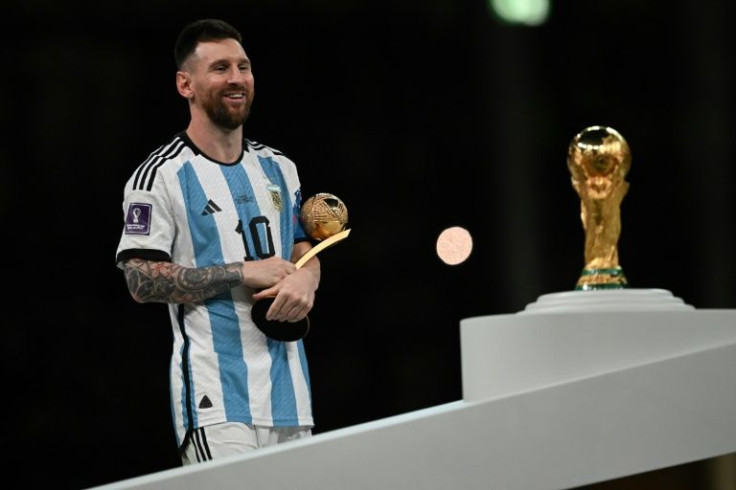 Argentina captain Lionel Messi, 35, led his country to glory last year during the World Cup, and on Tuesday he announced that he has no plans to play in the 2026 World Cup.
During his fifth World Cup appearance in 2022, Messi repeatedly said that it was going to be his last. But Argentina coach Lionel Scaloni, his fans and teammates remained hopeful he could feature at the 2026 World Cup, reported ESPN.
When asked about the 2026 World Cup that will be played in the U.S., Mexico and Canada, Messi said, "I think not." He shares that Qatar was his last World Cup, and that he will see how things go. But as it is right now, "no, I won't go to the next World Cup."
He noted that he would "like to be there to watch" the matches in 2026, but he is "not going to participate."
The seven-time Ballon d'Or winner is serving his international duty with Argentina in China. It is for their upcoming friendlies against Australia and Indonesia.
The former Barcelona star played a key role at the tournament in Qatar. It was the only major honor that had eluded him in his career till last year. Scoring seven times in seven games, he became the first football player to net in every single round of the same tournament since the round of 16 was introduced in 1986.
He scored two times in the final match against France, which concluded in a dramatic penalty shootout. This led Argentina to its third World Cup title.
He also become the first football player to get the honor of the Golden Ball two times since it was introduced in 1982.
Last week he announced his decision to join Major League Soccer side Inter Miami CF after his contract with Paris Saint-Germain (PSG) expires later this month.
He will sign a two-and-a-half year contract with former football star David Beckham co-owned franchise Inter, reported The Miami Herald. The contract comes with an option to extend until 2026.
Meanwhile, he seems to be set to help Argentina defend their Copa America crown at the next edition of the tournament, as per Forbes. It will be held in America in the summer of 2024.
© 2023 Latin Times. All rights reserved. Do not reproduce without permission.