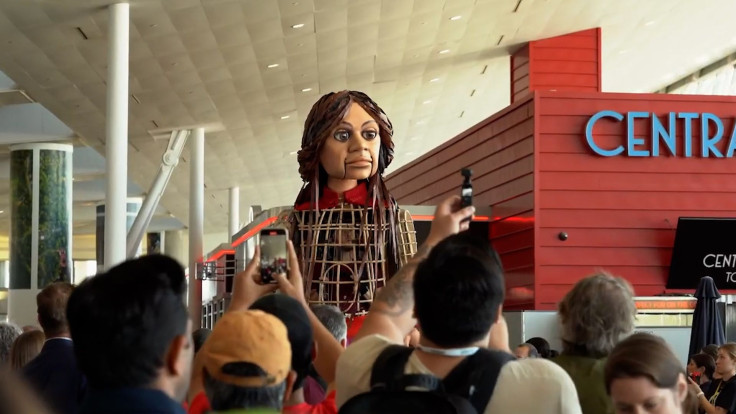 This fall, Little Amal, a 12-foot (3.7-meter) puppet of a Syrian refugee, will travel throughout the country, stopping at significant historical locations to promote awareness of immigration and migration.
Among other locations, the 10-year-old girl's puppet will stop at the Edmund Pettus Bridge, Joshua Tree National Park, Boston Common, and the U.S. Capitol during a journey that begins in Boston on Sep. 7 and finishes on Nov. 5 at the border with Mexico.
"There is something in the act of welcoming a stranger which redefines you," says Amir Nizar Zuabi, the artistic director. "I think that's part of what we're trying to create when walking into places that have a beautiful, complicated, defining history."
Additional stops are planned for Philadelphia, Baltimore, Pittsburgh, Detroit, Chicago, Atlanta, Nashville, Memphis, Austin, Houston, San Antonio, and El Paso in Texas, as well as Los Angeles and San Diego in California.
"Obviously there's a lot of specific points in our American history that we felt that we needed to address and that's the reason why we're starting in Boston," says Enrico Dau Yang Wey, lead puppeteer and co-associate artistic director. "The reason why we're finishing in San Diego is that there's just such a thin line between the United States and Mexico."
Little Amal demands empathy, the puppet of a vulnerable, naive girl who is in a strange place after surviving a long ordeal alone, AP News reported.
"She's just a symbol of millions of children," says Zuabi. "Just having a community breathe together and walk with Amal for a stretch in the streets becomes a very, very meaningful act."
In order to produce more than 100 unique events that are anchored by each of the 35 sites—including historical Civil Rights Movement hotspots like Selma, Alabama, and current gun violence hotspots like Uvalde, Texas—organizers are reaching out to local artists and leaders at each of the 35 locations.
"We work very closely with our local partners and try and understand what is the story they're trying to tell and try to co-create an event that resonates in this place to this community," says Zuabi. "I think that's part of why this project becomes so emotional for many people."
The award-winning puppets for the popular television program "War Horse" were manufactured by the South African Handspring Puppet Company, which also produced Little Amal.
Each time she visits, she needs four puppeteers—three to move her head and limbs and one to take gifts. Little Amal will go from coast to coast with a total of nine puppeteers.
"A lot of the ways we think about refugees, about immigrants, about migration, are informed and informed in American," says Zuabi. "In a way, that's a discussion we want to join and learn and listen."
The puppet traveled all around New York City on a 17-day tour last year, taking part in events like a drum circle in Harlem and a reading of the novel "Julián Is a Mermaid" at the Brooklyn Public Library. She will visit Toronto in June.
The puppet traveled through 12 countries, greeting Ukrainian refugees at a Polish train station, visiting refugee camps in Greece, and meeting Pope Francis during its 5,000-mile (8,050-kilometer) journey across Europe in 2021, starting at the Syrian-Turkish border and ending in northwest England.
Wey describes Little Amal as a "miraculous thing that pulls people together suddenly" to create a "collective sense of empathy and a collective sense of awe."
"Every time it's different and every time you learn a little bit more. It's one of those things where we learn on the job," he adds. "I have to get a new pair of walking boots."
© 2023 Latin Times. All rights reserved. Do not reproduce without permission.