Over 1,700 migrants were released into El Paso, Texas on Saturday and Sunday overwhelming local shelters. On Sunday evening, Chihuahua State police were seen escorting some groups of migrants by the hundreds crossing the Rio Grande into Texas all of whom were coming in from Juarez. Customs and Border Protection (CBP) sources said that its El Paso sector has seen 2,397 migrant encounters in the last 24 hours alone.
According to Fox News, the CBP's El Paso Sector has seen an increase in encounters and said that Border Patrol agents from Big Bend and CBP Officers from El Paso Field Office were assisting in the processing of migrants. With 5,000 immigrants currently in custody, officials said they have begun a mass release of migrants into El Paso's streets.
Prior to the mass crossing into Texas, about 20 buses full of migrants were escorted by Mexican law enforcement into the city of Ciudad Juarez, which sits right across from El Paso. Video recorded by a passenger inside one of the migrant buses showed their Mexican police escort.
Upon arrival, various non-governmental organizations took custody of the migrants, then left their non-governmental custodians. They later walked to the border and crossed illegally into El Paso. During their crossing, a young man wading in the middle of the Rio Grande was heard shouting "Welcome to the United States!" to his fellow migrants arriving at the border from shelters in Juárez. The migrants who crossed over the weekend were said to have come from Nicaragua, Peru, and Ecuador.
The mass crossing could not have come at a worse time for Border Patrol and nongovernmental shelters in El Paso as their facilities are stressed beyond capacity. As of Sunday, more than 5,000 were held in the Border Patrol Central Processing Center, which was designed to hold no more than 3,500, according to a dashboard maintained by the city of El Paso.
Federal and local officials are already anticipating continued growth in migrant crossing as Title 42, a controversial policy instituted during the Trump administration and expanded in the Biden administration to quickly expel many migrants on public health grounds, comes to an end.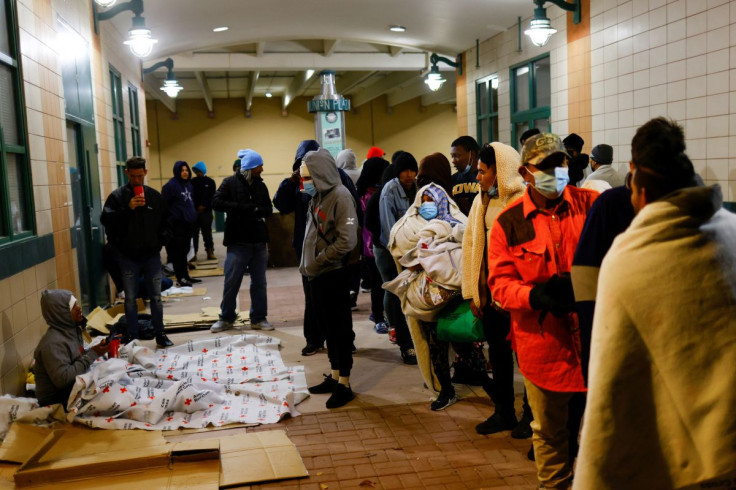 © 2023 Latin Times. All rights reserved. Do not reproduce without permission.