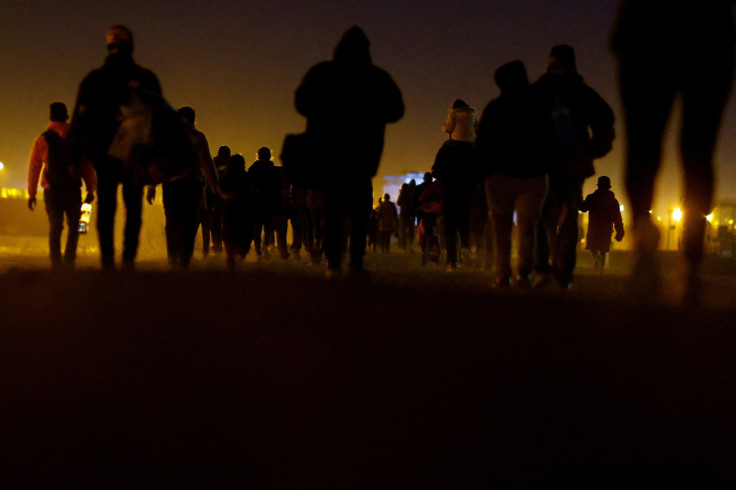 The unauthorized immigrant population in the United States reached 10.5 million in 2021, marking a modest increase over 2019 but remaining nearly identical to figures from 2017, according to new estimates released by the Pew Research Center. It still remains below the peak of 12.2 million in 2007. Lawful immigration, in contrast, has increased significantly.
The study specifies that it is not taking into account changes since "apprehensions and expulsions of migrants along the U.S.-Mexico border started increasing in March 2021" and clarifies that, ever since, figures have reached historic highs.
The unauthorized immigrant population, comprising individuals not falling into specific legal immigration categories, includes those not admitted for lawful residence, refugees, asylees, former unauthorized immigrants granted legal residence, naturalized citizens, and lawful temporary residents under specific visa categories.
Salient findings indicate a notable decline in unauthorized immigrants from Mexico, the most common country of birth for this population. The figures dropped by 900,000 from 2017 to 2021, totaling 4.1 million that year.
The decline in unauthorized immigrants from Mexico reflects several factors, including a broader decline in migration, immigrants returning to the country, and increased opportunities for lawful immigration, especially for temporary agricultural workers.
However, there were increases in unauthorized immigrants from almost every other region worldwide, including Central America, the Caribbean, South America, Asia, Europe, and sub-Saharan Africa.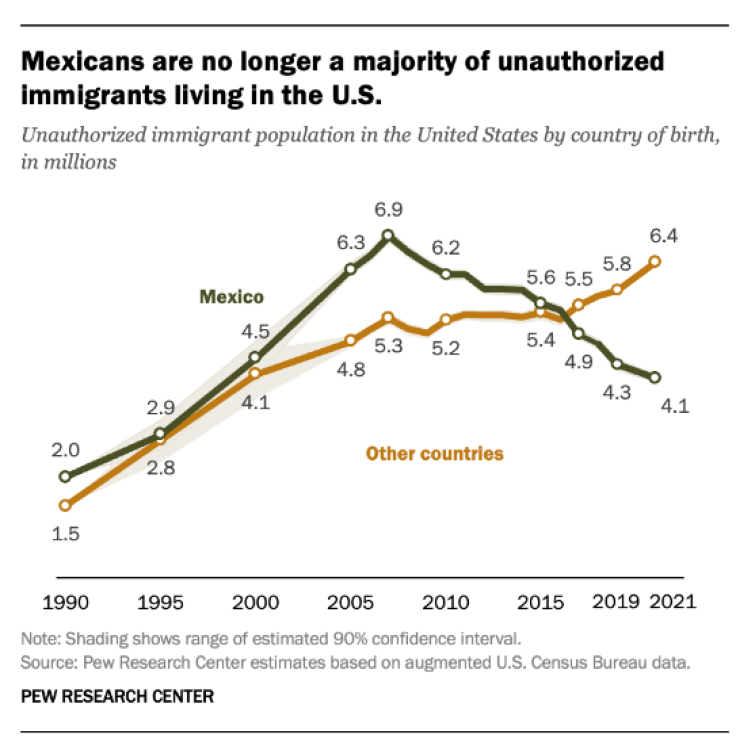 Mexicans are no longer the majority of unauthorized migrants living in the U.S.
Pew Research Center
Only Florida and Washington experienced increases in their unauthorized immigrant populations, while California and Nevada witnessed decreases. Nationally, 4.6% of U.S. workers in 2021 were unauthorized immigrants, mirroring the share in 2017.
As of 2021, the 10.5 million unauthorized immigrants represented about 3% of the total U.S. population and 22% of the foreign-born population. These percentages are among the lowest since the 1990s.
Between 2007 and 2021, the unauthorized immigrant population decreased by 1.75 million, or 14%, while the lawful immigrant population saw an 8 million increase, a growth of 29%. Naturalized U.S. citizens, accounting for 49% of all immigrants in 2021, experienced a 49% increase.
Countries other than Mexico contributed to the rapid growth of the unauthorized immigrant population in the U.S., reaching 6.4 million in 2021, up by 900,000 from 2017. Notable increases were observed in Central America (240,000) and South and East Asia (180,000).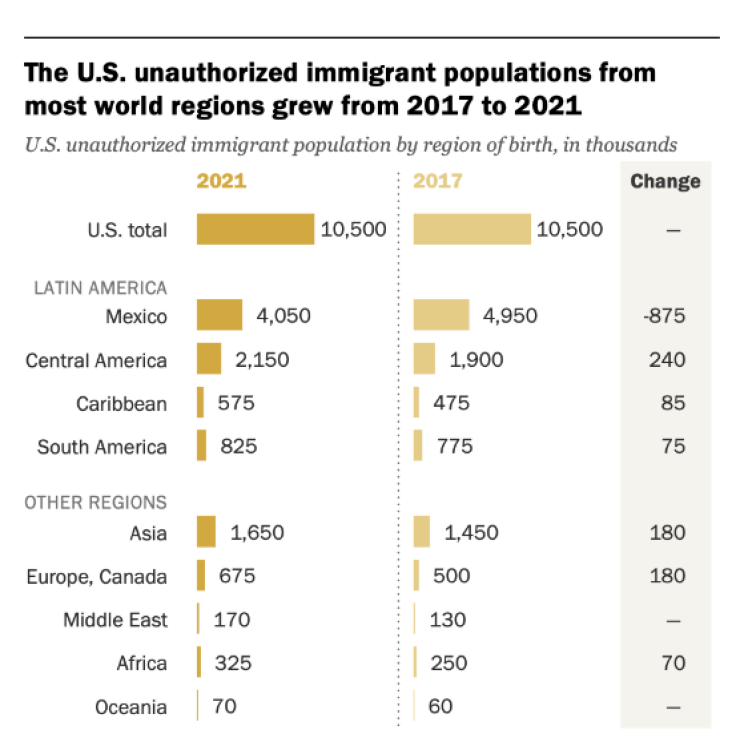 The total amount has remained practically unchanged
Pew Research Center
The unauthorized immigrant populations from El Salvador, India, Guatemala, and Honduras were the largest after Mexico in 2021. The Northern Triangle countries, El Salvador, Honduras, and Guatemala, represented almost 20% of the total unauthorized immigrant population, with a growth of about 250,000 from 2017.
Despite Venezuela experiencing particularly fast growth, the U.S. unauthorized immigrant populations from India, Brazil, Canada, and former Soviet Union countries also showed increases from 2017 to 2021. Some other countries, such as China and the Dominican Republic, showed no change.
© 2023 Latin Times. All rights reserved. Do not reproduce without permission.