Kentavious Caldwell-Pope was reportedly robbed of valuables roughly worth $150,000 earlier this month. The 28-year-old cager was in his driveway speaking with some friends on June 17 when three men riding a random car pulled up and commanded them to hand over their valuables.
Per TMZ Sports, the incident happened at around 4:00 a.m. on June 17. Among the things that were stolen included jewelry, a Rolex watch and an iPhone, all roughly worth around $150,000. KCP was unharmed during the incident.
The Los Angeles Police Department (LAPD) is now investigating the matter and a manhunt for the three suspects is likely to ensure. No further details were given tied to the unfortunate incident.
This development could not have come at a better time. It happens two weeks after the Los Angeles Lakers were eliminated in the NBA Western Conference by the Phoenix Suns. It has been a frustrating season for Caldwell-Pope and the Lakers who are expected to make some changes in the offseason.
Caldwell-Pope is a name that has surfaced in potential trades with the Lakers strapped financially. He is just in his first season of a three-year deal with the Lakers worth $40 million that he signed last season.
KCP started in all 67 games for the purple and gold in the regular season where he averaged 9.7 points, 2.7 rebounds and 1.3 assists. After standing out in the 2019-20 NBA Finals, Caldwell-Pope struggled this time around.
However, the blame was not solely pinned on Caldwell-Pope. Injuries to LeBron James and Anthony Davis factored in and KCP did try to step up when needed. Despite a seemingly impressive lineup on paper with new faces like Dennis Schroder, Marc Gasol and Montrezl Harrell, the Lakers were just a different team without James and Davis.
Caldwell-Pope and Kyle Kuzma are two names that other NBA teams are expected to target this offseason. The Lakers are looking for a shooter to combine with James and Davis. Although the one-time NBA champion has proven the ability to shoot when needed, head coach Frank Vogel may be looking to add more artillery depending on the available talent in the free-agent market.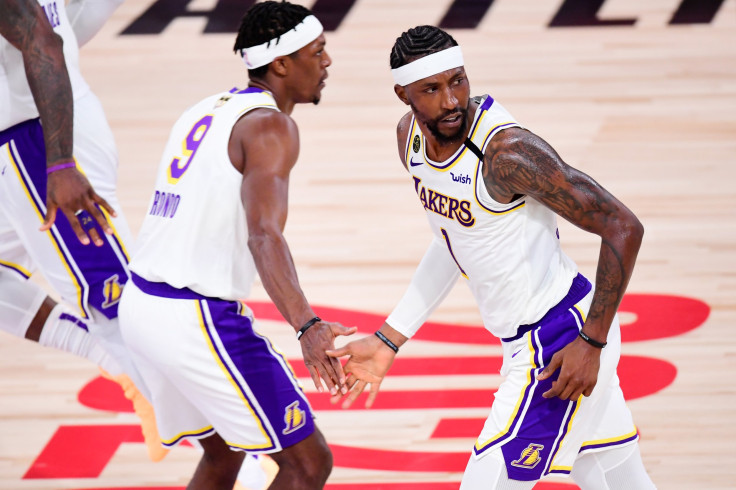 © 2023 Latin Times. All rights reserved. Do not reproduce without permission.