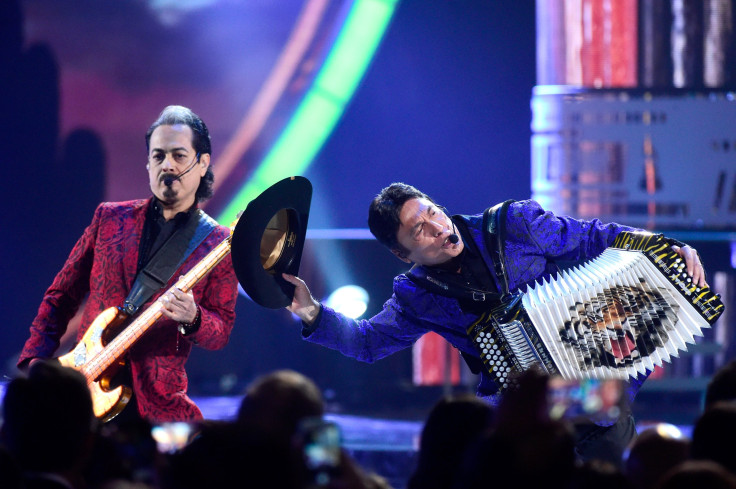 Los Tigres del Norte are all up for participating in Kate Del Castillo's movie about the life of Mexican drug lord, Joaquín "El Chapo" Guzmán. During a press conference to promote the fifth season of "La Voz Mexico," Hernán Hernández and Jorge Hernández revealed that they would love to be involved in the project if Kate asks them to jump in.
"The stories that we sing about are very related to these facts, and if this book, movie, telenovela that they are planning to produce fits our song-writing and performance style, and if Kate wants us in, well we'll decide then. But we would love to analyze the context first and then make a decision," Jorge told Vanguardia.mx.
Los Tigres del Norte are known for not having pelos en la lengua when it comes to writing a song, so they would be a perfect fit for the project. They have, of course, ventured into corridos, shown support for the LGBT community with their music, and also added political commentary in some of them.
Last year, they shared the stage with Maná at the 2015 Latin Grammys to deliver an important message to the Latino community and manifest their opinion on GOP front-runner, Donald Trump. "Latinos unite. Don't vote for racists," they expressed via a sign written in Spanish.
Earlier this week, the singers sat down with Joaquín López-Dóriga and added that Mr. Trump has brought racism back to the country and has "hurt Latinos, has hurt our hearts, and has insulted our intelligence. If we stick together, I think we can make this man stay away from the Presidency."
As of now, Kate Del Castillo hasn't disclosed what her next move will be regarding the biopic. Last Friday, the 43-year-old actress began telling her side of the story, and claims she will "tell her truth" during an interview with ABC's Diane Sawyer on Friday night. Stay tuned.
© 2023 Latin Times. All rights reserved. Do not reproduce without permission.