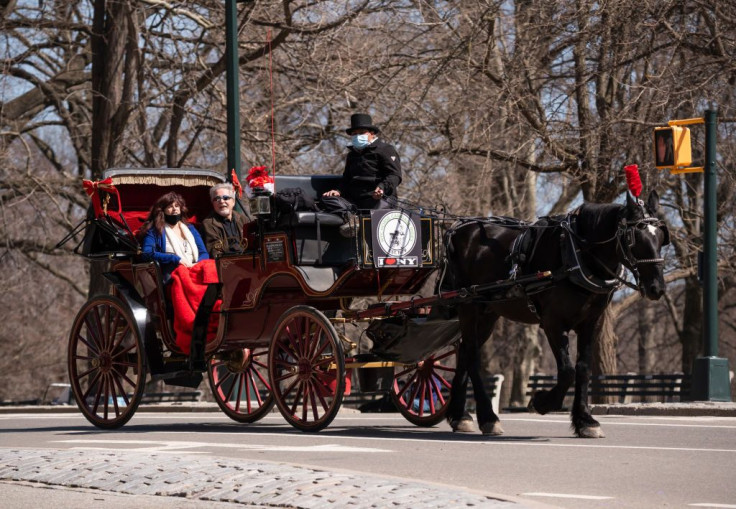 In a rather bizarre episode of sorts, a lunatic was caught punching and kicking three carriage horses in Central Park on Monday afternoon before claiming to be armed with a knife. The incident took place inside a part near West 59th Street and Sixth Avenue.
Recent reports suggest that the suspect was triggered by the presence of carriages, which were lined up along Center Drive with drivers who were waiting for fares. Things escalated real quick after the suspect began swearing and allegedly slugged a horse-driven by Nurettin Kirbiyik.
While speaking to the press, Kirbiyik revealed that the suspect had been talking to himself and washing his shirt in the "horse drinking water." Soon the man began talking to an 11-year-old Gypsy/Morgan cross named Dennis, reports Fox News.
"I look away, I was scared, I didn't want to look at him," said Kiribyik, as per the media outlet. "With his wet shirt wrapped around his hand, he punches Dennis in the face!" he added.
The suspect didn't stop at Dennis. He then went toward his next target—a 16-year-old chestnut named "Mary", driven by Henry Kaya. "He raised his hand to punch my horse but I pulled my horse back so he could barely touch my horse," said Kaya, 28, as stated in the report. When Kaya and another driver Mario Angelucci decided to follow the suspect, the latter used fear tactics to shoo them away. "We say, 'We call the police." He says, 'Call the police, I don't care. They ain't gonna do nothing,'" said Angelucci, enthusing how the man claimed to have a knife.
The inane happening also helped solve a mystery pertaining to a series of recent incidents that could've involved the same suspect. Angelucci attributed the untoward incident to New York's ineffective mayor. "De Blasio really turned this place into a mess. He was supposed to clean this up!" he complained.
Angelucci summoned cops to nab the lunatic and offered the video footage as evidence. But, New York Police Department (NYPD) maintained that the man was untraceable and hence the case was marked 'unfounded' due to the lack of evidence of a crime committed, reported the New York Post.