TrumpWorld ally and radio host Wayne Allyn Root is calling on an "intervention" against Donald Trump over the ex-president's support for the COVID-19 vaccine, adding that the political figure is "in total delusion."
"He needs an intervention from a friend," Root said during an interview this week with conspiracy theorist Alex Jones' "InfoWars" program. "He's been right on everything except this issue. He's so horribly wrong on this issue, and the best way to put it, ironically, is that he's dead wrong, because people are dying!"
The meltdown came after the former president, earlier this month, expressed his support of the coronavirus vaccines, which prompted his Make America Great Again (MAGA) supporters to turn their backs on him. Trump also recently disclosed that he had gotten his booster shot, the Daily Beast reported.
His revelation sent shockwaves across his MAGA followers, sparking an anti-vax protest at Trump's New York hotel as rallyists called him a "fraud."
On Monday, the chief medical adviser to the White House, Dr. Anthony Fauci, said that the former President had long been "poisoning the well" before he moved to advocate for the shots.
The director of the National Institute of Allergy and Infectious Diseases would note the Republican's earlier mixed signals about the jabs had contributed to vaccine hesitancy among Americans.
"Poisoning the well early on about — even not being enthusiastic or outright not pushing vaccines and discouraging vaccines now has a lingering effect," Fauci, a former advisor to Trump, said.
"Even when you come out and say, 'Go get vaccinated,' some of the people that have been following his every word and what he does are now pushing back and not listening," he added, noting many people still intend to boycott the inoculations and it "really tells you the strength of the divisiveness in our society."
"There really is no place for divisiveness, politically, when you have a classical, historical, unprecedented pandemic," Fauci continued, calling it "the biggest stumbling block" in taking control of the COVID-19 situation, according to the Business Insider.
In an interview with the right-wing pundit Candace Owens last week, Trump junked vaccine skepticism and ultimately called the development of the shots "one of the greatest achievements of mankind."
Despite this, Trump, through far-right Georgia representative Marjorie Taylor Greene, clarified that his promotion of the jab does not equal support for COVID-19 vaccine mandates of the Biden administration.
"I have President Trump's permission to tell you all that he is 100% AGAINST the mandates, but he still encourages everyone to get the vaccine and booster," Greene said per Yahoo! News.
To date, about 205 million Americans over age 5, or about 66 percent of the U.S. population, are fully vaccinated. Meanwhile, about 242 million Americans have gotten at least one jab, according to the Centers for Disease Control and Prevention.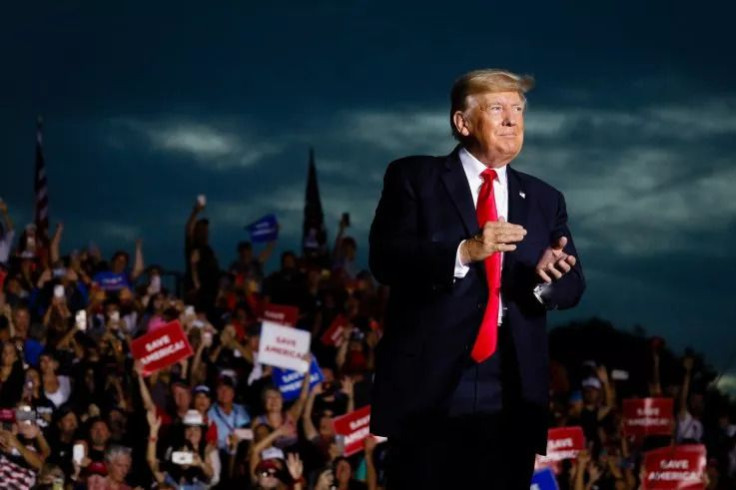 © 2023 Latin Times. All rights reserved. Do not reproduce without permission.