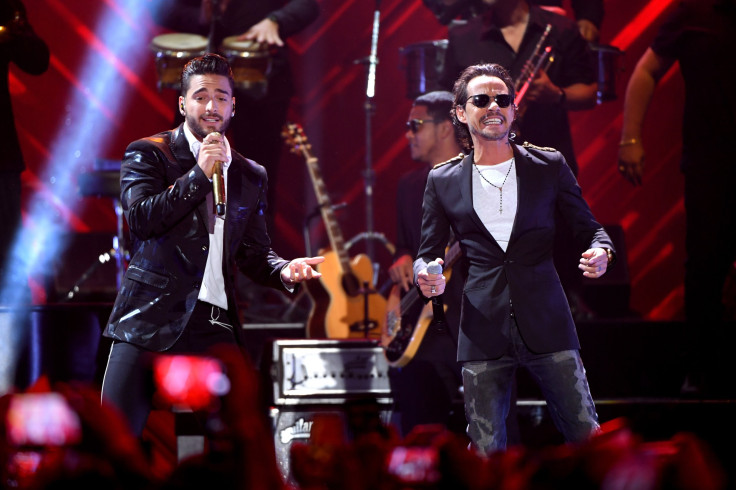 Leave it to Maluma to put on an incredible Opening Act at Premios Juventud. The young Colombian crooner started his performance of his hit "Felices Los 4" in its original, reggaeton version. While this single has been extremely popular as it is and fans were already screaming their heads off just at the sight of the "Pretty Boy, Dirty Boy," they were in for a major surprise. Mid-song, the beat changes and reggaeton becomes salsa. All of the sudden, Marc Anthony appears on stage.
To everyone's delight, Maluma definitely knew how to carry his salsa, especially next to a legend like Marc Anthony. The two finished the song strong, and shared a hug in the end as a reward for a job outstandingly done.
This performance set the tone for an unprecedented night, in which Iggy Azalea performed for the first time in a Latin network in the U.S. Also joining the lineup was DNCE , J Balvin , Bad Bunny , Gente de Zona , De La Ghetto , Wisin , Farruko , Jacob Forever , Ozuna , and Zion y Lennox . The duo that was Chyno y Nacho will be going solo and Calibre 50 and Ulices Chaidez y sus Plebes will also be at the event. Other confirmed performers include Enrique Iglesias , Yandel , Silvestre Dangond , Carlos Rivera , Arcángel and Sebastián Yatra .
Premios Juventud took on a change of format for this year's show opting to focus on music and dropping categories from pop culture like telenovelas and sports. "Premios Juventud 2017 will celebrate the best musical talent that appeals to the young Latino audience in a revamped format with fresh and fun categories," said Univision's President of Music Jorge "Pepo" Ferradas. "We will further connect with the younger generation by inviting new artists and recognizing important issues and amazing individuals who make our world a better place."
For the first time ever, PJ 2017 was linked in solidarity with the Global Citizen Festival in Hamburg, Germany, via a special performance by Shakira with Coldplay from that venue, as the 14th edition of Premios Juventud focused on social causes that directly affect Latino communities by recognizing young Latinos who have become "Agentes de Cambio" (Agents of Change) for a better world.
"In keeping with the spirit of Premios Juventud this year and the focus on social action, we are pleased to add the surprise performance of Shakira with Coldplay, thanks to Global Citizen, an organization focused on eradicating poverty and making the world a better place through the actions of each and every citizen," said Univision's President of Music Jorge "Pepo" Ferradas.
Wilver Valderrama was one of the celebrities that had the honor in celebrating the outstanding work of the youth with the "Agentes de Cambio" award. Joining the former "That 70s Show" star is "Orange Is The New Block" actress Diane Guerrero . The six "Agentes de Cambio" were Iván Ceja (26) and Justino Mora (28) from Compton, California, Dante Alvarado León (22) from Berkeley, California, Sarahí Espinosa Salamanca (27) from Palo Alto, California, Xiuhtezcatl Martínez (17) from Boulder, Colorado and Nalleli Cobo (16) from Los Ángeles, California.
© 2023 Latin Times. All rights reserved. Do not reproduce without permission.