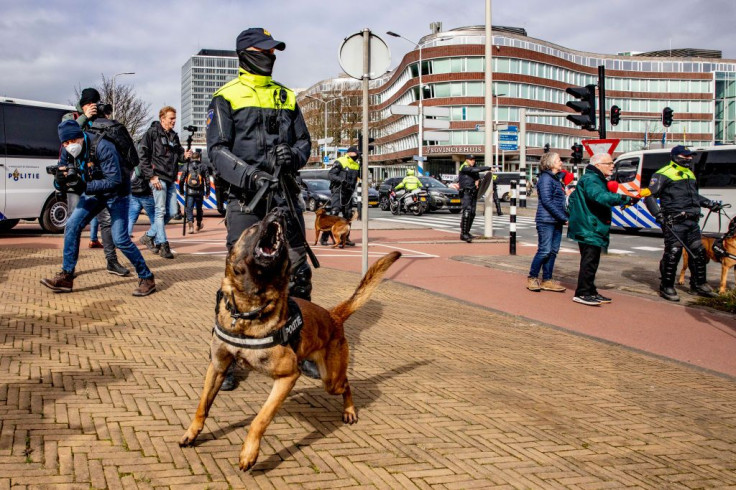 A New York man, who violently beat his 8-month-old pit bull, has been charged with animal cruelty, said the Society for the Prevention of Cruelty to Animals (SPCA) of Westchester. The suspect was caught on camera.
On April 12, the SPCA of Westchester's Humane Law Enforcement Unit got a call by the Yonkers Police Department who reported that a pit bull was being brutally beaten by his owner on the top level of a parking garage at 8 Buena Vista Avenue in Yonkers, said the SPCA.
WARNING: Graphic Content
A two-minute video of the act allegedly shows James Lucas III punching the pit bull mix named Zeus, reported NBC New York.
After his rescue, Zeus was immediately taken to a local veterinary hospital for treatment. "By some miracle, Zeus didn't sustain any serious injuries, but this is still a serious and horrific act of animal cruelty" said Shannon Laukhuf, Executive Director of the SPCA of Westchester.
"We are very thankful to those individuals who reported the incident so that the SPCA's Humane Law Enforcement officers could respond quickly, ensuring Zeus's rescue and the subsequent arrest of his owner."
Lucas III was held on Wednesday. Information regarding his attorney was not immediately known.
In another animal cruelty incident that took place a few weeks ago, a Chihuahua was found dumped in a tied up garbage bag and sealed in a closed container for 17 hours in Westchester County. The SPCA of Westchester took the responsibility of taking care of the dog now named Rue.
Employees of an animal rescue group in Elmsford spotted a blue plastic storage container at their entrance on April 29. When they opened the container, they found the Chihuahua inside, reported ABC7NY.
The dog broke some of her nails during her attempt at scratching her way through the tied-up garbage bag. "It's inconceivable that someone could do something so cruel to an innocent animal and we can't imagine how frightened Rue must have been," Laukhuf said.
"We are so grateful that she was found before it was too late and that she is now getting the love and care she needs."
Meanwhile, PETA is offering $5,000 for information that could help in the arrest of the person caught dumping the dog. Police are also investigating the matter, reported Daily Voice.