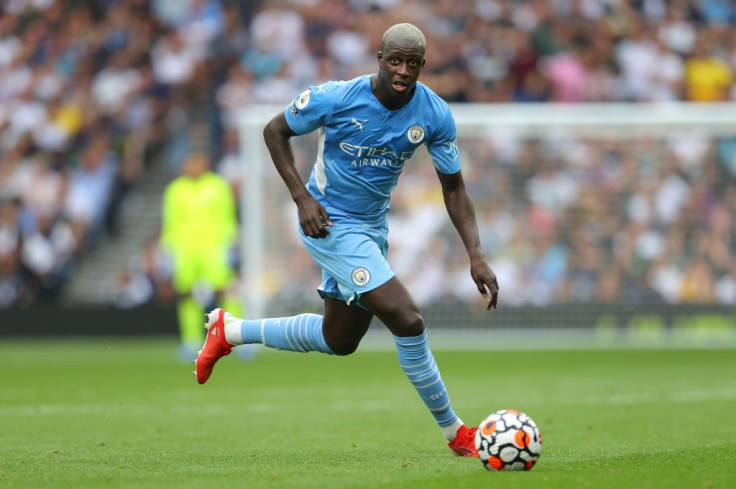 Tougher times await Manchester City footballer Benjamin Mendy, as he has been refused bail ahead of his trial for multiple charges of rape and sexual assault.
According to BBC News, the 27-year-old full-back was charged on August 26 on the grounds of sexually assaulting three women at his residence in Cheshire between October 2020 and August 2021.
Mendy whose been in custody for close to seven weeks now was denied bail recently by Judge Patrick Thompson in a 50-minute hearing at the Chester Crown Court. The Manchester City defender wasn't present in court at the time of the hearing.
This happens to be the third bail application made by the footballer. He is yet to enter pleas for the other charges that were levied against him— four counts of rape and one of sexual assault.
He was also faced with raping a woman in August. Cheshire Constabulary however, confirmed that another man identified as Louis Saha Matturie, 40, was also apprehended on suspicion of rape as part of the investigation. But, he was eventually released on bail.
Mendy is currently being held on remand at HMP Althouse, Liverpool, Mirror reported. The footballer has been accused of allegedly attacking three women, including one who is below 18 years of age. The victims however can't be identified, and the incidents reportedly happened at his home address on Withinlee Road in Prestbury.
He has been suspended by Manchester City, until further probe. The full-back was last seen making an appearance in the Premier League champions' season opener, a 1-0 defeat to Tottenham, in August, Talksport reported.
Mendy was onboarded into Premier League champions Manchester City in 2017 from Monaco for a reported £52 ($70.75) million. He has made about 75 appearances so far.
A new trial date has been set for Jan. 24, 2022, and is expected to go on for at least about two-and-a-half weeks, up until which he will remain in custody.
Cheshire Constabulary and the Crown Prosecution Service however urged that it was crucial to prohibit any reporting, commentary, or sharing of information online which could in any way impede or prejudice the ongoing proceedings.