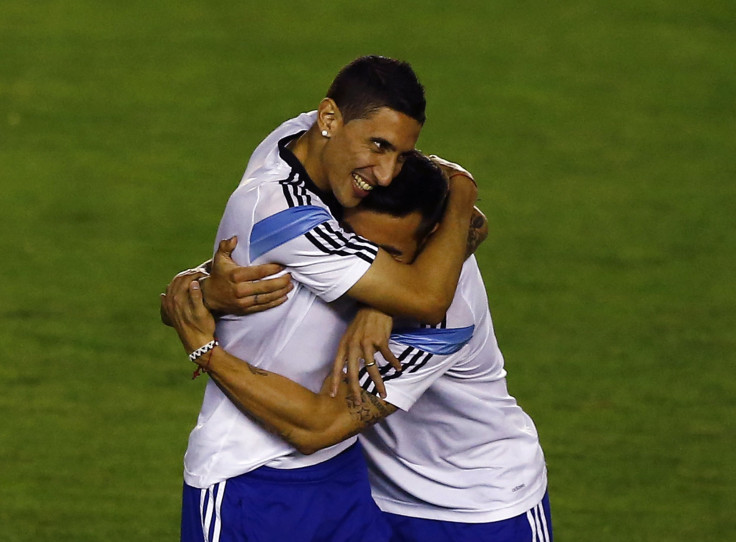 Manchester United has gotten their man. Latin Times has learned that Argentine winger; Angel Di Maria has agreed to transfer to Manchester United in a record breaking deal for the English club. According to reports, the deal is worth over $105 million dollars making it the largest transfer fee in British history. After the transfer is complete, Man U will have spent over $280 million dollars this summer and they might not be done yet.
United have already brought in Juan Mata, Ander Herrera, Luke Shaw, Marcos Rojo and now Di Maria under new coach Louis Van Gaal and reportedly with a week left to go they are still looking to add more pieces. Van Gaal has publicly expressed his desire to completely revamp the team to his liking and has let the Old Trafford fans know that it might take some time for United to rise to the top of the English Premier League, but that the wheels are in motion. Van Gaal is still interested in pursuing, Arturo Vidal from Juventus, Nigel de Jong from AC Milan and his defender on the Netherlands national team, Daley Blind who currently plays for Ajax.
Di Maria is expected to be in Manchester early Monday morning to take a physical and I would imagine after United's uninspiring 1-1 draw with Sunderland today, that they will be keen on getting Di Maria in a Red Devils uniform as soon as possible. Di Maria's current team, Real Madrid practiced on Sunday and Di Maria did not participate. Instead as head coach Carlo Ancelotti told reporters, he came to the training facility to say goodbye to his teammates.
"Di Maria has not trained with us today and he came in to say goodbye to the players and people at the club." Ancelotti told the press. "There is nothing official yet but it is being sorted out. The decision is his and the club has done what it could to keep him here."
As we reported earlier this week, Di Maria told the brass at Real that he wanted to leave the team despite being offered a contract to stay. At the time, Manchester United and Paris Saint-Germain were the front runners to land the Argentine star, but it appears that United has made a substantial offer that both Real and Di Maria could not refuse. "As soon as Di Maria knew of Manchester United's interest he was very excited about the possibility of coming to Old Trafford. At first Paris Saint-Germain showed interest in signing him and said they were prepared to meet his wage demands of 8 million Euros a year, but the deal offered by United was much more interesting to him." Despite telling team officials that he wanted Di Maria to stay, teammate Cristiano Ronaldo had great things to say about Manchester United, and reportedly helped persuade his friend to join the English club even though they have struggled the better part of two seasons.
Di Maria is expected to wear the iconic number 7 jersey that has been worn in the past by players like David Beckham, Eric Cantona, Cristiano Ronaldo, George Best and Bryan Robson. His impact should be felt immediately as his offensive prowess could be just what United needs to get their season back on track. Di Maria has featured in center at Real Madrid, but in Van Gaal's 3-5-2 system, he will most likely play on the wing as he did with Argentina alongside Lionel Messi in the 2014 World Cup. With one week to go until the transfer window closes, look for Manchester United to make a number of moves before Sept. 1.
© 2023 Latin Times. All rights reserved. Do not reproduce without permission.