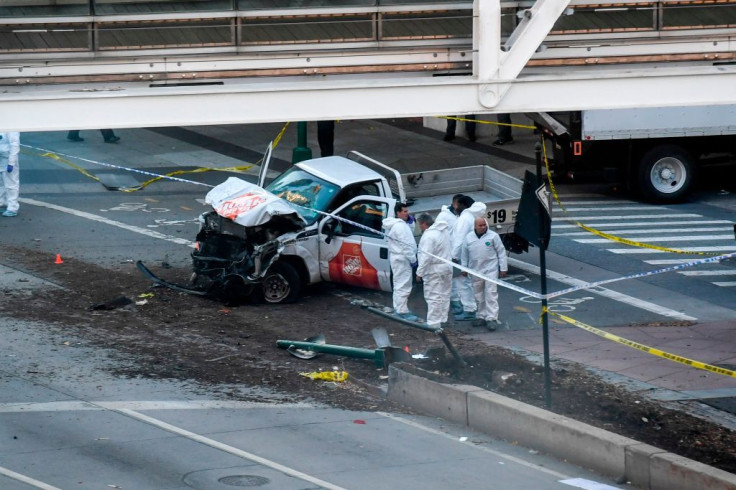 Authorities in New York pointed to 29-year-old Sayfullo Habibullaevic Saipov as the alleged perpetrator of multiple manslaughter in Lower Manhattan that left eight people dead and 11 wounded. According to the law enforcement the suspect is from Uzbekistan in Central Asia but had been living in the US since 2010.
Habibullaevic Saipov used a Home Depot rental truck to struck people on a busy bicycle path near the World Trade Center, to then collide with a small school bus, injuring two adults and two children on Chambers Street. Among the fatalities, five Argentines nationals were confirmed by the Argentine Foreign Ministry, and identified as Hernán Diego Mendoza, Diego Enrique Angelini, Alejandro Damián Pagnucco, Ariel Erlij and Hernán Ferruchi. A sixth member of the group of friends, Martin Ludovico Marro, is injured, but in stable condition, and is being hospitalized in the Presbyterian Hospital of Manhattan, according to medical officials.
"This was an act of terror, and a particularly cowardly act of terror, aimed at innocent civilians, aimed at people going about their lives who had no idea what was about to hit them," New York Mayor Bill de Blasio said after authorities found a note claiming the attack was made in the name of ISIS.
"We accompany the families in this terrible moment of deep pain, which all Argentines share," expressed the Argentine government. Argentina's president, Mauricio Macri, tweeted that he was "deeply moved by the tragic deaths" in New York.
According to some witnesses the suspect shouted "Allahu akbar'' meaning "God is great'' in Arabic, after he jumped out of the vehicle with something on his hands that appeared to be two firearms, later police said it turned out to be a pellet gun and a paintball gun.
Habibullaevic Saipov was shot by a police in the abdomen, and is expected to survive after surgery. As reported by CNN, a law enforcement source said officers were able to talk to him before the surgery but it is not known if he told them anything.
According to The Washington Post, Antonio Valasquez, 28, said he saw the truck speed by as he left a restaurant and then heard a crash. "I didn't really understand, you know, at first what was happening," he said. "I was running away."
"It was obvious something drastic was happening, so I just wanted to get the kids someplace safe," said Rabbi Chaim Zaklos to The Washington Post. Zaklos was picking up children to escort them to Hebrew school nearby.
President Donald Trump took Twitter to condemn the attack, writing: "Looks like another attack by a very sick and deranged person.'' Tweeting later: "We must not allow ISIS to return, or enter, our country after defeating them in the Middle East and elsewhere. Enough!"
Currently, extra police would be posted around the city of New York as a precaution. Recently Trump issued a new travel ban that will be affecting citizens of eight countries and prohibiting them from entering the US. The new ban will be effective vetoing the citizens of Iran, Libya, Somalia, Yemen and Syria, and on this occasion also including travelers from Chad, North Korea and certain individuals from Venezuela, but Uzbekistan is not part of the list.
Is expected that Trump take action. "I have just ordered Homeland Security to step up our already Extreme Vetting Program. Being politically correct is fine, but not for this!" he wrote on Twitter.
© 2023 Latin Times. All rights reserved. Do not reproduce without permission.