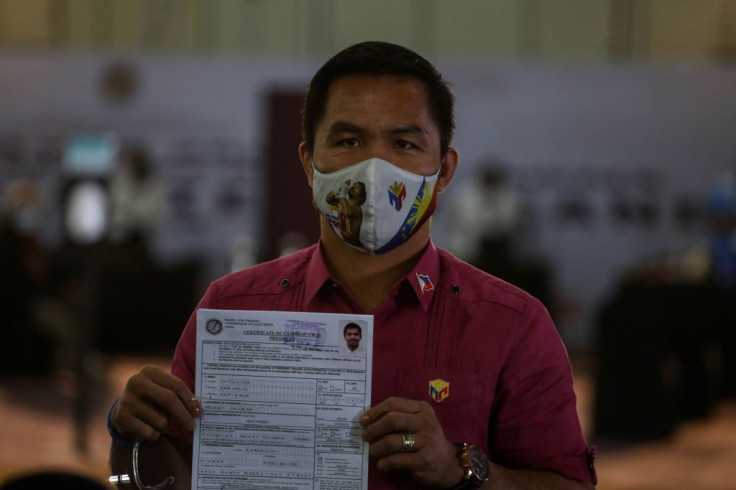 Philippines boxing champion turned senator, Manny Pacquiao is running for president in the 2022 Philippine elections. The 42-year-old senator said his announcement for candidacy was his answer to the country's call for a true change of government.
In an interview with CNN, the presidential candidate had openly expressed his intentions to investigate some members of President Rodrigo Duterte's outgoing administration citing corruption allegations,
"All those corrupt officials should be jailed," the former world boxing champ said. "We need government to serve our people with integrity, compassion and transparency," he added.
Pacquiao is hopeful in his bid to succeed Duterte in the May 9 elections next year as he accuses his former ally's current administration of contributing to the flagrant corruption in the Philippines. Critics have questioned Pacquiao's qualifications, but the fighter has reiterated that his personal experience of hardships equips him to understand what the Filipino people truly need to alleviate poverty as well as end corruption.
"I am a fighter, and I will always be a fighter inside and outside the ring."
Included in Pacquiao's agenda is to step up further efforts to recoup some of the "stolen wealth" from the Marcos family, despite another recently junked anti-graft and corruption case filed against them in July. "I am not scared," Pacquiao strongly proclaimed as he continued to say that this was his fight to provide development and jail those who are continuously stealing the Philippines of its wealth.
Meanwhile, as the presidential race heats up, Duterte's supporters earlier announced it has filed a petition with the Commission on Elections to declare Pacquiao along with his allies as illegitimate officers of the ruling party.
Political analysts and experts say Pacquiao has a fighting chance amongst the frontrunners which include the controversial son of former president Ferdinand Marcos, Ferdinand "Bongbong" Marcos Jr. The 64-year-old presidential candidate has recently confirmed teaming up with Duterte's eldest daughter Sara Duterte-Carpio as his running VP.
But unlike some of Pacquiao's rivals for the presidential bid, the legendary boxer was born into poverty and literally fought his way to win world titles in his 26-year-career inside the boxing ring. His success has gained him global respect in the field of sports, as well as his famed generosity to the poor. This is said to be his winning edge amongst the Filipino masses, having given away $200 million of his hard earned money to help the poor who are endlessly inspired by his rags-to-riches story.
Combined with the country's electoral system, where all you have to do is win more votes- analysts say this could lead Pacquiao to a win, citing Duterte's 2016 presidential victory which had just over 39% winning votes.
Other main candidates in the presidential race include current Philippine Vice President Leni Robredo, who has long been a critic of Duterte and the Marcoses.
© 2023 Latin Times. All rights reserved. Do not reproduce without permission.