For Manny Pacquiao, there is no doubt that he has already done a lot in the boxing ring. Although his last fight did not end the way he wanted it, it cannot be denied that his feat would be hard to top.
The 42-year-old has a lot on his plate despite that loss to Yordenis Ugas. That includes figuring out what his next political step would be and if he will continue to fight.
Pacquiao has not made an official decision although his camp has been shaken up recently. Long-time strength and conditioning coach Justin Fortune says he is done working with Freddie Roach according to Joaquin Henson of the Philippine Star.
This stems from the blame game with Fortune having enough of Freddie Roach accusing him of Pacquiao's loss.
"He accused me for Manny's loss to cover up his own inadequacies and didn't do it to my face. Freddie made stupid statements, not even factual, about Manny running the hills at Griffith Park six days a week. He won't tell it to my face and I think that's being a coward. It's pathetic. If I had something to say about Freddie, I'll tell it to him straight, not through somebody else," Fortune said.
It remains to be seen how Pacquiao can remedy this. For now, he is facing more pressure as a politician. At the top of that is what his plans are for the 2022 Philippine elections. He is expected to announce that soon.
Some believe that Pacquiao should focus on politics or helping people from hereon. One of them is the first female boxer to be inducted into the Boxing Hall of Fame, Cristy Martin.
Martin appeared on the Sports For All PH podcast recently and gave her take on what the future hold for Pacquiao.
"You can't beat father time and mother nature. Maybe father time caught up with Manny," Martin stated.
Like others before her, Martin added she believes Pacquiao has already earned a lot from boxing and has nothing left to prove. Rather than fight, she believes it would be best for the PacMan to instead focus on politics or helping people in the Philippines.
"He has made a lot of money, how many belts has he had? A future Hall of Famer, he has nothing left to prove," she stated. "So why not just hang it up and just continue doing what you do? Do the politics, help the people. He has done enough for boxing."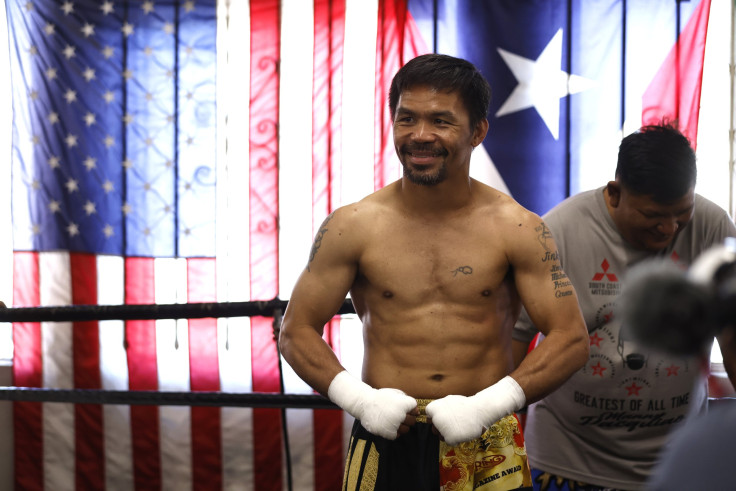 © 2023 Latin Times. All rights reserved. Do not reproduce without permission.