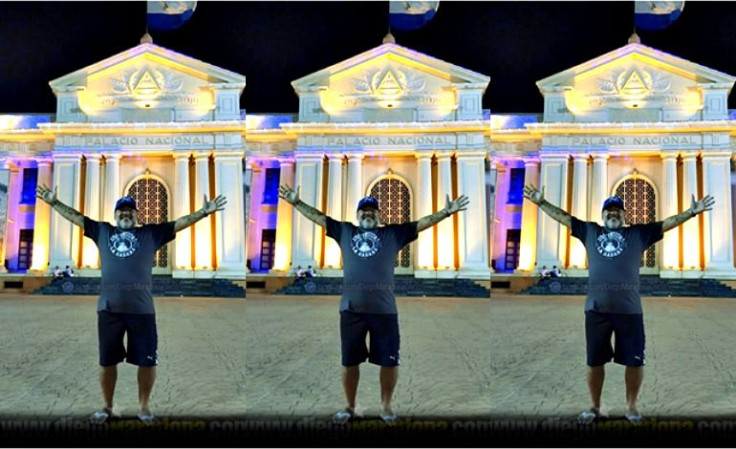 Diego Maradona is in Central America, where he is visiting his good ole' friend in Nicaragua. The iconic Argentine soccer player shared photos earlier this week on Facebook, revealing that he was spending some time in Central America's biggest country. At the beginning, the reason of his trip was unknown, but as the days advanced and Maradona continued his trip in Nicaragua, we found out just about everything he did in the country.
We speculate that Maradona arrived at the Augusto Cesar Sandino International Airport in Managua either April 16 or 17 as on Monday morning he was sharing a photo in front of National Palace. A photo with a Nicaraguan fan also made the rounds hinting that he was in the country. His visit then became more clear when he shared a photo with Nicaraguan president Daniel Ortega. "I want to thank The President of Nicaragua Daniel Ortega for his invitation. Thank you very much Nicaragua!," he jotted down on Facebook in three different languages: Spanish, English and Italian.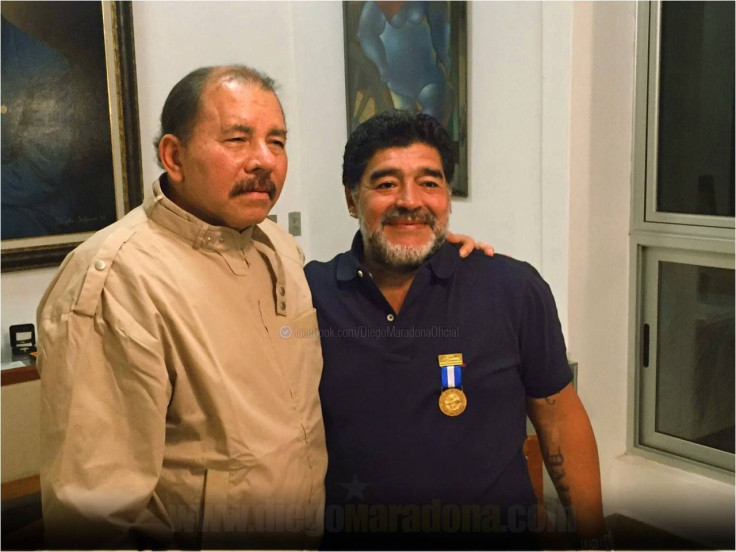 During his visit the 55-year-old retired professional footballer took time to hang out with a group of aspiring children who hope to become a household name in the soccer industry. "In the same way, with the enthusiasm you have and the same situation you're in, I was in," he told the kids. "With the same illusions you have, no more, no less. Soccer is the most wonderful sport that exists, this is where you become a man," he said, stating that the sport is very challenging and competitive, but that you have to be loyal. "Wanting to train more than your partner to win the position... to win first place, because that's life," he said.
Maradona emphasized that he was 12 years old when he began training for the first time. He motivated the kids to follow their dreams as he did, telling them that because of a soccer ball, he was able to buy his mom her first home, he paid for his siblings' studies, and helped his sister's have a stable lifestyle.
As his fun-filled week in Nicaragua wrapped up, where he allegedly visited with his girlfriend Rocio Oliva, Ortega honored Maradona with the highest award bestowed by the Central American country ---the insignia of the Order of Augusto Cesar Sandino--- praising the legendary athlete as a "fighter, a gladiator of peace and justice, according to El 19 Digital. The last time Maradona visited Nicaragua was on December 2014, where he also hung out with his good ole' friend.
© 2023 Latin Times. All rights reserved. Do not reproduce without permission.