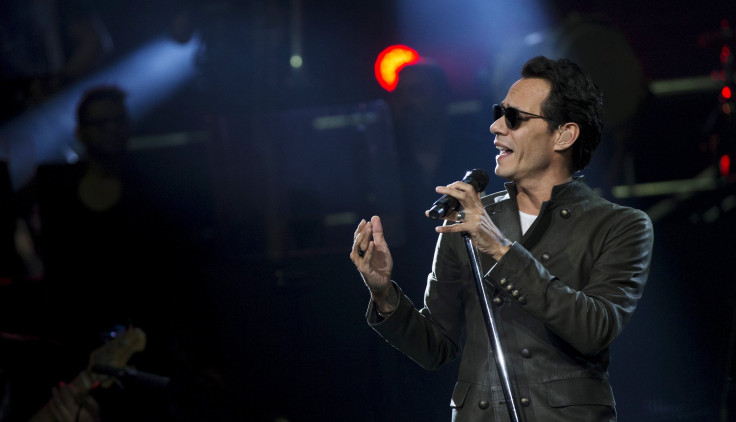 Marc Anthony is now in the sports business. The Hispanic singer, actor, and record producer has followed in the footsteps of fellow New York native Jay Z, and launched his own Sports Management Company called MAGNUS Sports.
Anthony originally founded a talent management company earlier this year in order to represent musicians and actors as they maneuver their way through the shark-infested waters that is the entertainment industry. Despite Anthony's experience in this realm, he opted to expand into sports management and on Monday he signed his very first client.
"So happy to start the week with amazing news," Anthony wrote on his Instagram account. "Today we celebrate the creation of MAGNUS Sports, the signing of 4-time All-Star Major League Baseball Pitcher Aroldis Chapman and the association with Praver Shapiro Sports."
Anthony's company will represent Chapman in all of his marketing and sponsorship exploits and the firm of Praver Shapiro will be Chapman's legal representation when the Cincinnati Reds closer becomes a free-agent next year.
"Baseball, like music, is an ingrained, cultural passion for many Latinos throughout the world, and there's no shortage of amazing stars of Hispanic origin," Anthony said in an official statement. "Despite that, until now, there hasn't been an enterprise designed to meet their needs."
Anthony's investment is similar to what rapper Jay Z did with his company Roc Nation Sports and CAA when the hip-hop star first ventured into the sports world. Many naysayers didn't believe that athletes would choose to sign with J-Hova, but Roc Nation Sports has quieted the doubters, signing an impressive list of athletes including Kevin Durant, Robinson Cano, C.C. Sabathia, Ndamakong Suh and Dez Bryant.
Anthony's company will look to market the musician's overwhelming presence in the Latino community in order to sign clients in the heavily saturated Hispanic market of Major League Baseball and boxing.
Currently, more than 30 percent of the league is composed of Hispanic players and some of the best players in the game, including Albert Pujols, David Ortiz, Miguel Cabrera, Felix Hernandez, Yasiel Puig, Jose Abreu and Yadier Molina all hail from Latin American countries.
Anthony has handpicked Michael Vega to head the company after Vega left William Morris Endeavor, where he was the head of Latin Music for nearly 15 years.
© 2023 Latin Times. All rights reserved. Do not reproduce without permission.