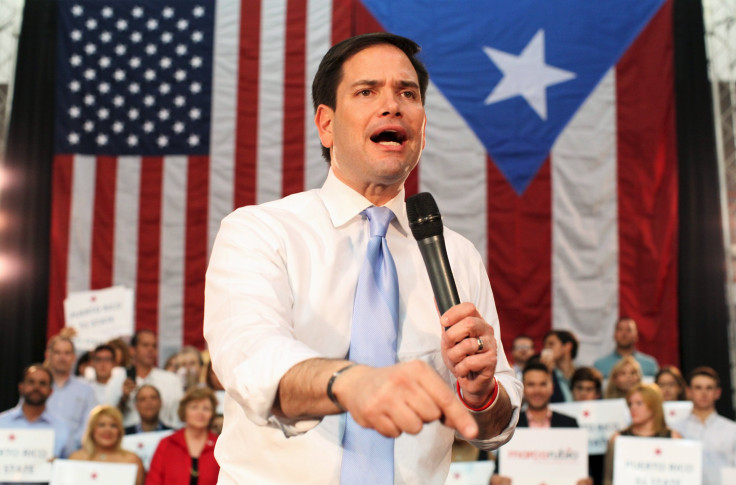 Florida Senator Marco Rubio's floundering campaign got a boost over the weekend with a decisive victory in Puerto Rico's winner-takes-all primary. Rubio won over 73 percent of the vote in the island territory, scoring a landslide victory over rival candidates; real estate mogul Donald Trump, Texas Senator Ted Cruz and Ohio Gov. John Kasich. Can the victory help him win Florida in that state's March 15th primary? Rubio may have no viable path to the Republican nomination after a brutal Super Tuesday defeat. Losing his home state -- and its 99 delegates -- would the proverbial a nail in the coffin of the Rubio campaign.
"This campaign has taken a lot of twists and turns but I can tell you this: We will win Florida," Marco Rubio's brother Mario Rubio told supporters at a Jacksonville rally on Saturday, The Florida-Times Union's Joe Daraskevich reports.
"When I am president of the United States, we are going to rebuild the U.S. military the way [Ronald] Reagan did," Marco Rubio said at the same rally.
Rubio won Puerto Rico later that day, garnering him him 20 delegates and bolstering his pitch that he can perform well among Hispanic voters. Marco Rubio's victory in Puerto Rico may give some teeth to the argument that the Senator might beat Trump, who has held a double digit lead in the Sunshine State for weeks. The latest Florida polls indicate that Rubio has closed that gap significantly, largely by stealing market share from Cruz.
Rubio's Puerto Rico victory helps him in two key ways. First, it sends a signal to Florida voters that he may still be a viable alternative to Trump, the loathed Republican frontrunner. Second, the landslide win sends a message to Florida's 1 million eligible voters of Puerto Rican heritage, many of whom have moved to the state in the past decade.
For Puerto Rican GOP voters who were undecided or not paying attention, Rubio's win in their home territory says "pssst; Boricuas vote for me," a message that could make a difference on the Tuesday-after-this-coming.
© 2023 Latin Times. All rights reserved. Do not reproduce without permission.