After a seven-year absence, Mariah Carey made a triumphant return to the 96th Macy's Thanksgiving Day Parade on Thursday. However, fans immediately called her out for lip-syncing.
The 52-year-old singer, who calls herself the "Queen of Christmas," looked at ease as she sang "All I Want For Christmas Is You" to Manhattan audiences while decked out in a red dress and sparkly tiara.
The holiday season has officially started in New York and across the US thanks to Mariah's elaborate festive performance. Dancers wearing identical marching uniforms and her twins Moroccan and Monroe, both 11 years old, joined her.
Fans, however, observed that the singer's faultless vocals were strikingly identical to the recorded version of the 1994 song. The New York Times said some accused her of "blatant lip-syncing." Mariah has previously gotten into trouble for questionable miming.
Sports journalist Ian Hest wrote: "Mariah Carey is getting millions right now [to stand] there with her umbrella, and honestly, I'm not mad. Mad respect."
"I love the lack of energy Mariah Carey gives in her performances. It's the one thing we can all count on," Twitter user Nick Russo said.
"Mariah Carey getting paid to just stand there at the thanksgiving parade and not even pretend to be actually singing to the backing track lmfao queen behavior," another person tweeted.
Another said: 'So @MariahCarey don't sing foreal anymore? Smh' while a third typed: 'I wish I could get paid to stand and look cute lip-syncing like Mariah Carey ... that chick sang not one note.'
Back in 2016, Mariah had a disastrous performance in Times Square due to technical difficulties that caused her to be utterly out of rhythm with her lip-syncing track, which led her to walk off stage.
Before the customary ball drop, the megastar diva was expected to ring in 2017 and bid farewell to 2016 by singing two hits, "Emotions" and "We Belong Together."
She stopped pretending to sing on stage in New York City because she couldn't hear the backing track, put her palm on her hip, and the vocal track continued without her.
Carey, who was wearing a magnificent pink bodysuit, started pacing around the stage in despair as she became enraged by the calamity unfolding in front of millions of people in Times Square and watching at home.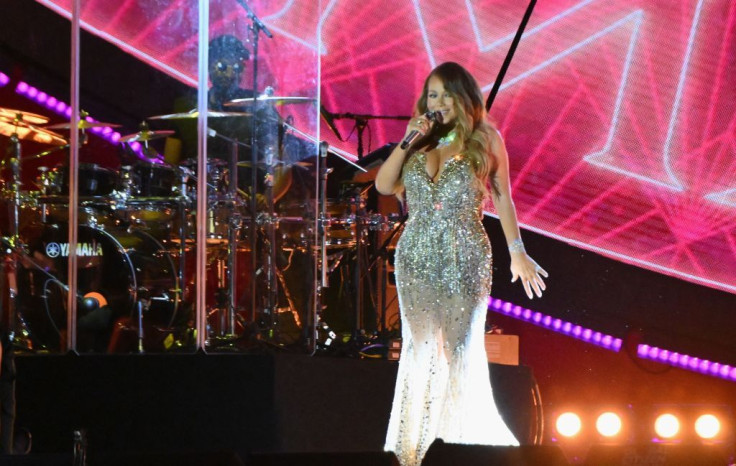 © 2023 Latin Times. All rights reserved. Do not reproduce without permission.