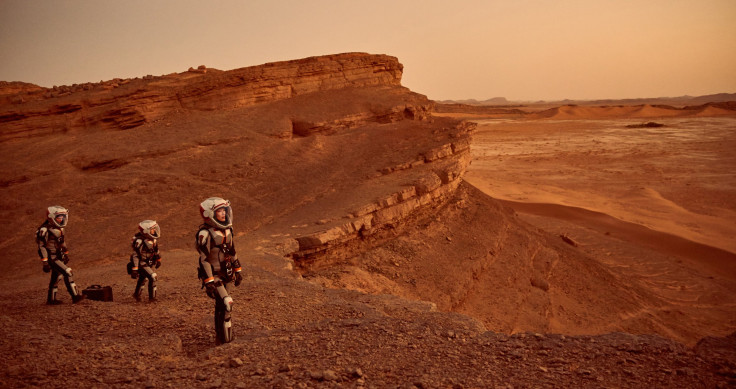 Just when you thought you had seen everything on TV, comes "Mars," a six-part series that guides audiences through the endeavor of colonizing the planet in 2033 and includes present-day interviews with visionaries including Elon Musk, Stephan Petranek, Andy Weir, Ann Druyan and Neil DeGrasse Tyson. From Executive Producers Brian Grazer and Ron Howard, "Mars" showcases the dramatic setbacks and successes of the modern scientific space revolution, envisioning humankind's first harrowing attempt to colonize the distant planet.
Premiering on the National Geographic Channel and Nat Geo Mundo in the U.S. on Monday, Nov. 14 at 9/8c, "Mars" — which is set both in the future and in the present day — will redefine television storytelling by combining feature film-quality scripted drama and visual effects with best-in-class documentary sequences to drive forward a cohesive, edge-of-your-seat story of mankind's thrilling quest to colonize Mars.
This epic six-part global event series tells the inspiring story from the vantage point of a fictitious crewed mission to Mars in 2033. Executive producers Howard and Grazerhand-selected visionary Mexican filmmaker Everardo Gout to direct all six episodes of the series, filmed earlier this year in Budapest and Morocco.
The scripted portion focuses on Earth's first crewed mission to Mars aboard the spacecraft Daedalus. Its maiden voyage in 2033 is crewed by a carefully selected international team of six uniquely qualified astronauts, including: American mission commander Ben Sawyer ( Ben Cotton), Korean-American mission pilot Hana Seung ( Jihae), Spanish hydrologist and geochemist Javier Delgado ( Alberto Ammann), French mission physician and biochemist Amelie Durand ( Clementine Poidatz), Nigerian mechanical engineer and roboticist Robert Foucault ( Sammi Rotibi) and Russian exobiologist and geologist Marta Kamen ( Anamaria Marinca).
Back on Earth, the Mars Mission Corporation (MMC) control team based in London includes Hana Seung's twin sister, capsule communicator Joon Seung (also played by Jihae), and French CEO of the MMC, Ed Grann (Olivier Martinez).
Once Daedalus successfully lands on Mars and sets up a preliminary base of operations, British nuclear physicist Leslie Richardson ( Cosima Shaw ) will lead a Phase 2 settlement team along with her husband, world-renowned experimental botanist Dr. Paul Richardson ( John Light).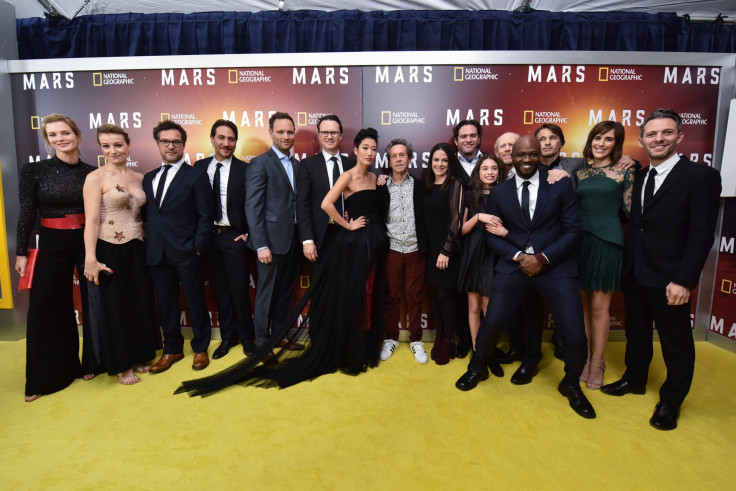 "Mars" truly brings together all of the world's leading minds in a way never before accomplished — think of the world's largest TED talk with the most fascinating people on Earth. Those interviewed on camera for the series include the following:
- Charles Bolden, Administrator, Former Astronaut, NASA
- Neil deGrasse Tyson, Director, Hayden Planetarium
- Peter Diamandis, Chairman and CEO, XPRIZE Foundation
- David Dinges, Director, Unit for Experimental Psychiatry, University of Pennsylvania
- Casey Dreier, Director of Space Policy, The Planetary Society
- Ann Druyan, Creative Director, Voyager Interstellar Mission, NASA
- Charles Elachi, Director, LPL (Ret.)
- Jim Green, Division Director, Planetary Science, NASA
- John Grunsfeld, Associate Administrator, Former Astronaut, NASA
- Jennifer Heldmann, Planetary Scientist, NASA
- Jedidah Isler, award-winning astrophysicist; emerging Explorer, National Geographic
- Thomas Kalil, Deputy Director, White House Office of Science and Technology
- Roger Launius, Smithsonian Institution
- John Logsdon, Founder, Space Policy Institute, George Washington University
- James Lovell, Former NASA Astronaut, Apollo 13 Commander
- Elon Musk, CEO SpaceX
- Stephen Petranek, author, "How We'll Live on Mars"
- Mary Roach, author, "Packing for Mars"
- Jennifer Trosper, Mars 2020 Mission Manager, JPL
- Andy Weir, author, "The Martian"
- Robert Zubrin, President, The Mars Society
In the first episode, "MARS: Novo Mundo," the first human mission to Mars enters the red planet's atmosphere in 2033, but the crew of the Daedalus faces a life-threatening emergency when the ship's landing system goes offline. The crew's commander risks his life to fix the problem as mission control monitors back on Earth. In the present-day documentary, SpaceX attempts to land the world's first reusable rocket in order to pioneer the critical technology that will help humans reach Mars.
Don't miss it on Monday, November 14, 2016 on the National Geographic Channel and Nat Geo Mundo at 9/8c.
© 2023 Latin Times. All rights reserved. Do not reproduce without permission.