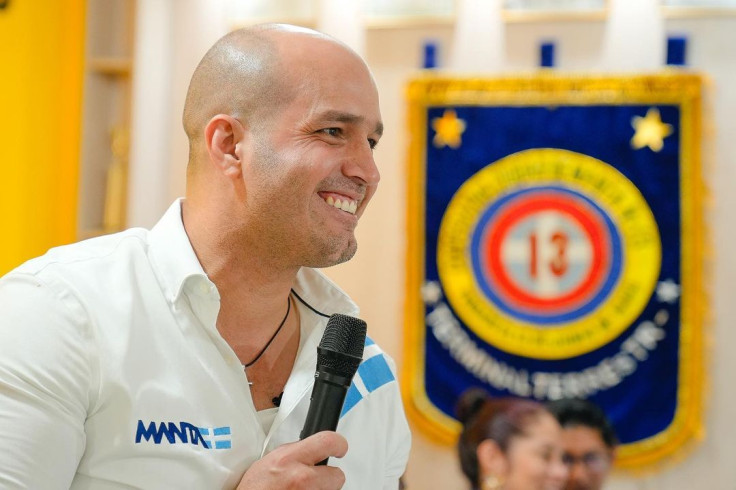 The mayor of Ecuador's third-largest city was shot dead Sunday by an unidentified attacker.
Agustin Intriago, the mayor of Manta, a port city on the country's central coast, was inspecting public works in the city when the shooting took place.
Armed with a gun, the suspected attacker got out of a stolen truck and started firing on Intriago, who had been reelected as mayor of Manta in February, regional police commander Edwin Noguera told reporters.
Apart from the mayor, a woman also died in the attack. Officials described her as a "collateral victim," Reuters reported.
The 38-year-old mayor was accompanied by security officials who returned fire and injured the driver of the stolen vehicle. However, the suspected attacker escaped following the shooting.
The driver, who is now in police custody, is currently getting medical attention in a hospital. He is a citizen of Venezuela and has no prior criminal record, according to Noguera.
Officers managed to get hold of the stolen truck that had a grenade inside it, as well as a gun that had been likely used in the attack.
Police said Intriago had reported getting threats to authorities, but it was not immediately clear why he had been attacked.
President Guillermo Lasso took to Twitter to express his sorrow over the killing.
He said he has ordered the Commanding General to "activate the necessary contingent so that those responsible are located and answer to justice for this act."
"We stand in solidarity with the family of the Mayor and the victim who was accompanying the authority at that time," he added.
Interior Minister Juan Zapata also said the police are working on locating and capturing those "responsible for this reprehensible act."
Ecuador is faced with outbreaks of violence, according to AP News. Authorities have attributed them to disputes among organized crime groups. Manta, which has around 200,000 residents, has been prey to such gangs.
The city is about 160 miles southwest of Quito, Ecuador's capital. It is on a section of the Pacific coast that is often used by gangs to transfer huge shipments of drugs to different parts of Latin America and Europe.
The country's government is also making attempts to tackle a rise in crime that includes armed attacks, extortion kidnappings and robberies.
© 2023 Latin Times. All rights reserved. Do not reproduce without permission.