Prince Harry and Meghan Markle's appearance at Oprah Winfrey's show saw several skeletons tumbling out of the (royal) closet. From being denied security unlike other royal members to having felt suicidal during her stay at many a time, Markle made tearful revelations about how living the royal life was shrouded in prejudices -- stuff that even her son Archie was subjected to.
"All around this same time -- we have in tandem the conversation of, 'He won't be given security, he's not going to be given a title,' and also concerns and conversations about how dark his skin might be when he's born," said Markle, in response to Oprah's question about whether the lack of privileges such as security and royal titles had anything to do with her and Archie's race.
What's more, Markle went a step ahead and enthused that there were several racist conversations pertaining to what Archie's complexion would be. But the Duchess refused to drop names, though.
"About how dark your baby is going to be?" Oprah asked, during the course of the interview. To which Markle responded, "Potentially, and what that would mean or look like."
While Harry expressed his reluctance to divulge more on the incident, he went on to state that there were obvious signs that a married life with Markle would be "pretty hard", as cited in a recent report on Page Six.
"That conversation I am never going to share, but at the time it was awkward, I was a bit shocked," he said. But he did say that the discussion of "what will the kids look like?" came "right at the beginning."
"That was right at the beginning when she wasn't going to get security when members of my family were suggesting that she carries on acting because there was not enough money to pay for her, all this sort of stuff," he said, adding, "Like, there was some real obvious signs before we even got married that this was going to be really hard."
Markle also revealed that the vicious news about her often left her distraught, often leaving her suicidal. "I would sit up at night, and I was just like, 'I don't understand how all of this is being churned out,'" she said, adding, "If you zoom in, you can see how tightly his (Harry) knuckles are gripped around mine. You can see the whites of our knuckles because we are smiling and doing our job, but we're both just trying to hold on."
The former actress also shared incisive details about how her mental health was on the decline, with constant suicidal thoughts being her constant companion. Recalling one such instance when she was pregnant with Archie, and the Sussexes were to attend an event at the Royal Albert Hall. "I had just had that conversation with Harry that morning," she said. "We had to go to this event, and I remember him saying, 'I don't mind,' I said, 'I can't be left alone.'"
She further averred "Every time that those lights went dim that royal box, I was just weeping, and he was gripping my hand."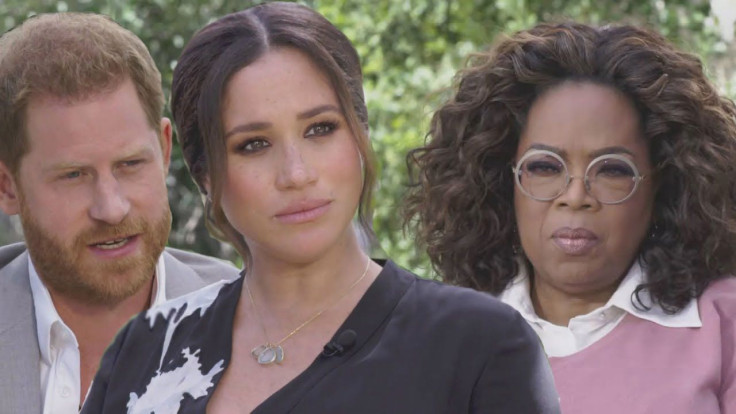 © 2023 Latin Times. All rights reserved. Do not reproduce without permission.