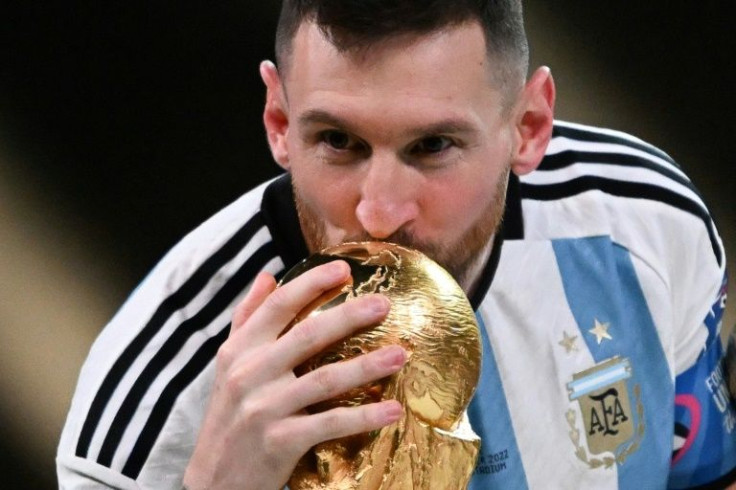 Besides winning the 2022 FIFA World Cup in Qatar on Sunday, the Argentine superstar accomplished a second feat for the record books.
After securing Argentina's third World Cup title, Lionel Messi, 35, now holds the record for both most-liked Instagram post by a sports figure and most-liked Instagram post of all-time with over 63 million likes as of Tuesday. The number tops Cristiano Ronaldo's previous sports figure Instagram record of 41 million likes set in November 2022, and Chris Godfrey's viral a photo of an egg in January 2019 that recieved 56.1 million likes.
After Argentina defeated France in arguably one of the greatest World Cup finals games ever that ended after penalty kicks, Messi took to social media following the epic victory. After getting his hands on the FIFA World Cup Trophy, Messi uploaded a post that included ten images of himself and his teammates celebrating.
Messi wrote in the caption, via English translation "WORLD CHAMPIONS!!!!!!! Thank you so much to my family, to all who support me and also to all who believed in us. We prove once again that Argentinians when we fight together and united we are able to achieve what we aim. The merit is of this group, which is above individuals, is the strength of all fighting for the same dream that was also the one of all Argentinians... We did it!!! LET'S GO ARGENTINA!!!!"
Messi's upload accumulated 42.5 million likes within 16 hours. Ironically, the Paris Saint-Germain forward was featured in Ronaldo's record setting viral post where the two were shown playing chess. The picture was taken as an advertisement for Louis Vuitton. Although ads do not usually generate that much engagement on Instagram, when the advertisement includes two of the world's best soccer players, things change.
Messi's latest achievement also surpassed the previous most-liked Instagram post of all-time held by Chris Godfrey. Godfrey, a then 29-year-old advertising executive from London, uploaded a photo of a lightly speckled brown egg, resplendent on a sheer white back drop, in 2019 that went on to receive 56.1 million likes.
Messi's future is uncertain at this time. Whether he chooses to retire or continue playing, the 2022 World Cup champion has achieved everything he set out to do over the course of his career. Messi has already guaranteed a spot amongst Argentina's soccer greats Diego Maradona, Juan 'El Chueco' Fangio and Alfredo 'Saeta rubia' Di Stéfano.
© 2023 Latin Times. All rights reserved. Do not reproduce without permission.