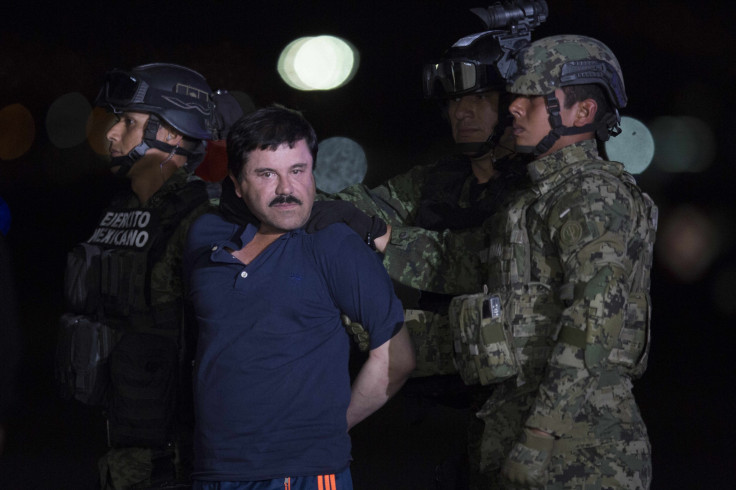 Seven arrest warrants have been issued by a Mexican judge from the Office of the Attorney General's office which also included Joaquin "El Chapo" Guzman and a couple of prominent government officials. Mexican prosecutors have charged these seven individuals related to cross-border arms trafficking.
In a statement released Sunday by the Attorney General's office, Sinaloa Cartel leader El Chapo was found to have been working alongside former federal police intelligence top cop Luis Cárdenas and Mexico's former Security Minister Genaro Garcia Luna. While Guzman is currently serving his life sentence at a federal supermax prison in the United States, Garcia Luna was arrested in Texas in 2019 is now in the custody of the US. Meanwhile, Cardenas was arrested in July 2021 in connection to a kidnapping case and is presently detained in Mexico.
According to the New York Post, Mexican judges have since sought the extradition of El Chapo and are looking to do the same with the country's former security minister. All three have been linked to the "Fast and Furious" gun-running scheme from 2009 to 2011.
US prosecutors have charged García Luna for accepting bribes, in exchange for law enforcement protection of the Sinaloa Cartel operation. He is said to have received tens of millions of dollars in cash which were often packed in briefcases.
The sting operation that led to their arrest had federal agents from the Bureau of Alcohol, Tobacco, Firearms, and Explosives opening channels for criminals to purchase weapons and ferry them over the border as a means to lead them to Mexico's notorious drug cartels.
Over 2,000 weapons were tracked to these cartels, which included high-powered rifles used by these gangs in killing sprees. In December 2010, a shootout took place resulting in the death of US Border Patrol agent Brian Terry. The gang involved has been known to rob migrants near Rio Rico, Arizona. Two of the weapons found at the scene were traced to the Fast and Furious.
The names of the four other individuals have not yet been released.
In a separate incident, El Chapo's fugitive sons have reportedly given away lavish Christmas gifts as part of an organized holiday bash on Christmas Day for the residents of Sinaloa. The fiesta took place in an undisclosed town in the city of Culiacán, where video footage showed live bands performing while eight brand new cars were being simultaneously raffled off. Several rows of toys and other gift packages were seen piled together with black stickers bearing El Chapo's initials.
The said event held by Los Chapitos also known as El Chapo's four sons, Ovidio Guzmán López, Joaquín Guzmán López, Ivan Archivaldo Guzmán, Jesús Alfredo Guzmán --was in commemoration of the "POSADA". This Mexican religious tradition is celebrated in Latin America which looks back at the journey of Mary and Joseph while they were in search of a safe refuge for baby Jesus' birth.
© 2023 Latin Times. All rights reserved. Do not reproduce without permission.