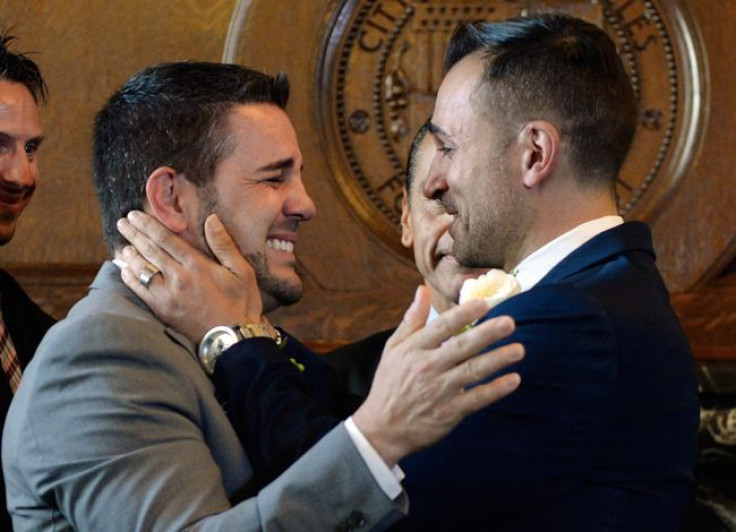 Ana María Jiménez Ortiz, congresswoman for the Mexican political party PAN, cited a scientific study that has caused waves amongst the gay community fighting for equal rights. Her exposition was done during the "Matrimonio Igualitario en Puebla" panel that took place last week in support of marriage equality.
RELATED: Gay Couple Attacked In NYC: Peter Nortman, Michael Felenchak Beat Up With Brass Knuckles In Chelsea For Holding Hands [VIDEO]
"A marriage should only be considered amongst people that can look at each other in the eye while having sexual intercourse," Jiménez Ortiz said. "Something that does not happen in homosexual couples."
Ana María was citing Mark Regnerus study conducted at the University of Texas, which also goes on to say that children adopted by gay couples have a tendency to become an adult that is closer to drugs and depression. The congresswoman was then heavily criticized on Twitter for what she said and subsequently made her account private.
RELATED: Orlando Cruz, Openly Gay Puerto Rican Boxer, Proposes To His Boyfriend Over Facebook [VIDEO]
Before her social network was closed to the public, SDP Noticias was able to obtain a statement Ortiz tweeted defending herself from the attacks.
"In no time did I attack any of the assistants [to the panel], I manifested my posture of the issues in a respectful manner and with my convictions, it is the only way we will come to common ground on these important issues."
RELATED: Gay Athletes List To Include Tim Duncan Soon? Jason Collins, Orlando Cruz And Others Who Have Come Out Despite Stigma [PHOTOS]
Jimenez Ortiz added, "I'm sorry that my participation was taken out of context and doesn't sum up the exposition that I made and that this has generated a series of attacks towards me on social networks, from people that unfortunately was not there and that the only information they have to attack is from one source."
Genaro Lozano, a professor in Political Science and panelist at "Matrimonio Igualitario" went on to defend the congresswoman and said that the study was refuted by the scientific community as it had no grounds to sustain itself. He said that the study was a poll given to 15,000 people, with less than 3,000 responding to the survey. The results were not conclusive to make an argument in favor of the hypothesis. Lozano also brought up different studies that have concluded that children raised by a homoesexual couple is no different than one from a heterosexual one.
© 2023 Latin Times. All rights reserved. Do not reproduce without permission.