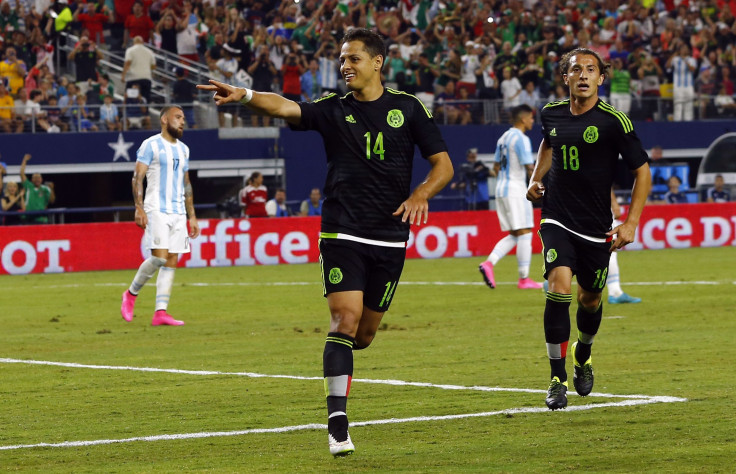 ARLINGTON, TX – El Tri was four minutes away from a shocking 2-0 upset over Argentina, but two late goals to Sergio Aguero and Lionel Messi denied Ricardo Ferretti his first victory as manager of Mexico in a 2-2 draw.
Hector Herrera scored a goal in his second straight game, and Javier "Chicharito" Hernandez converted a first half penalty as Mexico was just minutes away from defeating Argentina in a competitive match for the first time in 11 years.
Argentina is ranked as the No. 1 team in the world, and Lionel Messi is easily the No. 1 ranked player in the world. "La Pulga" proved why he is deserving of such an honor when he scored the equalizer in the 89th minute.
Messi's goal was one of the best goal's you'll see as the left footed striker took a pass from Aguero, leapt into the air and in motion fired a shot into the bottom left corner of the net for the game tying goal.
Messi played all 90 minutes of the match; despite reports earlier in the week that he would only play a few minutes as he did in the team's 7-0 victory over Bolivia.
Chicharito scored on a penalty kick in the 19th minute after Raul Jimenez was taken down in the box by Nicolas Otamendi. It was Hernandez's 41st goal of the season, only five shy of the all-time Mexican record set by Jared Borgetti.
"We knew about their quality on the pitch and that helped us a lot," Chicharito said of Argentina. "The most important thing is the team and the results."
Moises Muñoz made a tremendous save on Carlos Tevez at the end of the first half. Muñoz was chosen to start in net by new Mexican coach Ricardo Ferretti who favors Muñoz over Guillermo "Memo" Ochoa.
Argentina looked better in the second half, but were denied time and time again by Muñoz.
Mexico went up two – nil, in the 71st minute when Miguel Layun sent a cross to Hector Herrera in the center of the box. Herrera's golazo bounced off the hand of the keeper and into the net.
Sergio Aguero scored in the 85th minute for Argentina when substitute Ezequiel Lavezzi beat Muñoz to the ball and sent a pass in front of the net to a wide-open Aguero for the goal.
Messi's strike tied the game in the 89th minute, as Mexico was unable to close out La Albiceleste.
The turf was one of the leading topics of debate before, during and after the game. Many players turned up large chunks of freshly laid sod throughout the game. Injuries were a fear by both teams throughout the game.
© 2023 Latin Times. All rights reserved. Do not reproduce without permission.