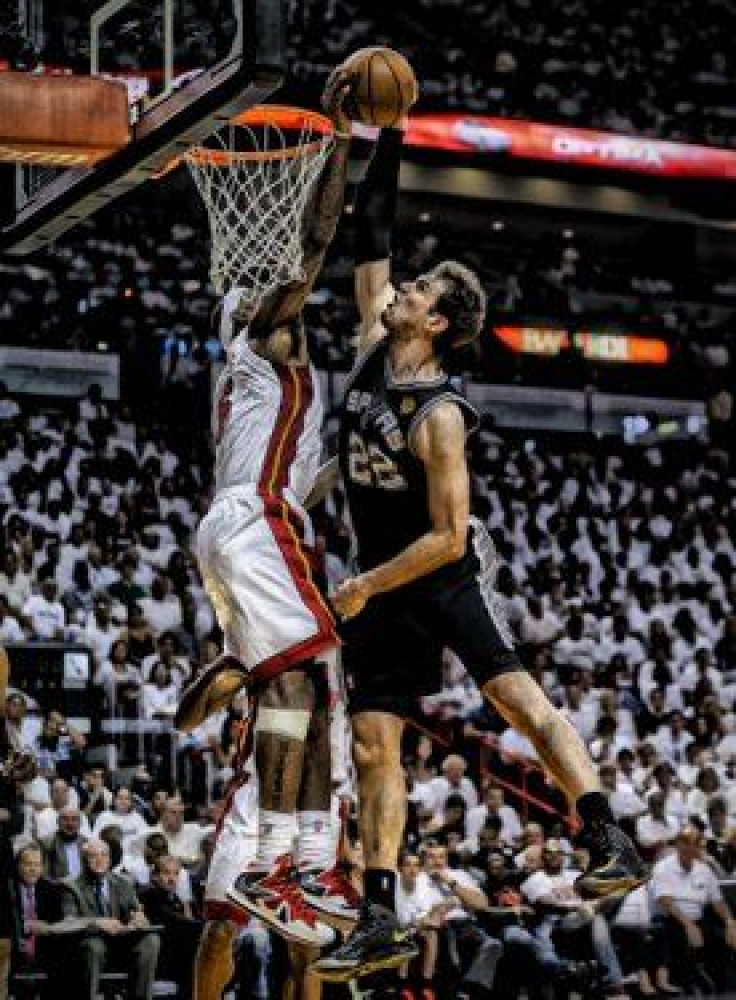 The San Antonio Spurs took the opening game of the NBA Finals in clutch fashion, converting offensive possessions into crucial points down the stretch. Heading into game 2 in South Beach, San Antonio had a chance to take control of the series but with a balanced performance from Heat star LeBron James and great supporting performances from Mario Chalmers, Mike Miller and sharpshooter Ray Allen, the defending champs evened the series at one game apiece with one of their best acts this season.
As the series now shifts to San Antonio, Game 3 becomes all the more important for both teams. The veteran Spurs will play three-consecutive games on their home floor and if they're able to win Game 3 they'll surely put themselves in solid position moving forward while Miami looks to return the favor and take the first game in San Antonio from the four-time NBA champions.
When and Where to Watch Game 3
With both teams looking to gain control of the series, the San Antonio Spurs will host the Miami Heat on Tuesday, June 11th for Game 3 of the NBA Finals. Tip time is set for 9:00pm, EDT with television coverage available through the ABC Network.
For those looking to watch the contest on-line, a live stream will be provided by ESPN3.com beginning at 9:00pm.
RELATED: US Open 2013: Top 5 Players To Watch At This Week's Major Championship; Notable Opening Round Tee Times And Groupings
NBA Finals Breakdown
Tony Parker was clearly the Game 1 hero for San Antonio, knocking down an awkward bank shot around the tight defense of LeBron James to put the Spurs up 4 with only 5.2 seconds remaining. James and company may have dropped the opener on their home floor but a dominant performance in the fourth quarter of Game 2 on the strength of a complete team effort evened the series. Dropping the second game 103-84 in a lackluster performance, Tim Duncan and the Spurs are happy to return home but the 2006-2007 NBA champs know an improved effort is needed to retake the series lead.
"Obviously we were glad to win a game here in Game 1," Duncan said to NBA reporters following the 19-point loss. "Our goal was to get two. But they got the one tonight. We get to go back home. We got a game here. We have three at home, so we're excited about that. But if we play like we did tonight, that's not going to matter."
WATCH WORLD CUP QUALIFYING: Argentina Vs. Ecuador: When And Where To Watch World Cup Qualifying Match; Preview [LIVE STREAM]
While San Antonio was able to shoot a comfortable 41% from the floor in the Game 2 loss - led by Danny Green's 17 points - they struggled to control the Miami offense. Double-digit point efforts from James (17 points), Chris Bosh (12 points), Chalmers (19 points), Dwyane Wade (10 points) and Ray Allen (13 points) proved to be too much for the Spurs. Add in the fact that league MVP LeBron James also recorded 8 rebounds and 7 assists while Chris Bosh finally put together a double-double with 12 points and 10 assists and it's no wonder the Heat were so dominant when they needed to be.
"Honestly, for me, when I was struggling offensively, my teammates continued to keep it in range," LeBron James told ESPN after the game 2 victory. "And we even had a lead at one point, especially late in the second quarter when we made that run and I was struggling a little bit. So I think Rio (Chalmers) more than anybody kept us aggressive, him getting into the paint, him getting those and-ones and making a couple of 3's. It allowed me to sit back and wait for my time."
Mario Chalmers shot 6-of-12 from the floor including 2-of-4 from three point range in 35 minutes of action Sunday night. If he's able to keep his stellar play going and Miami continues to get strong rebounding from Chris Bosh along with bench production from Ray Allen and Mike Miller (9 points on 3 three pointers) then the defending league champions should be just fine heading into San Antonio. If they let the veteran trio of Duncan, Tony Parker and the struggling Manu Ginobili play their style, Miami could be in for a long series.
RELATED: Bears Trade: Former Chicago First Round Pick Gabe Carimi Traded To Tampa Bay
NBA Finals Game 3 Wrap-Up
With the NBA Finals tied at one, Miami and San Antonio know Game 3 could very well turn out to be the most crucial contest of the series.
Be sure to catch all the action on Tuesday, June 11th from the AT&T Center in San Antonio, Texas as the Spurs host the Heat. Tip time is set for 9:00pm, EDT with television coverage available through the ABC Network.
An on-line live stream can also be found by visiting ESPN3.com.
© 2023 Latin Times. All rights reserved. Do not reproduce without permission.