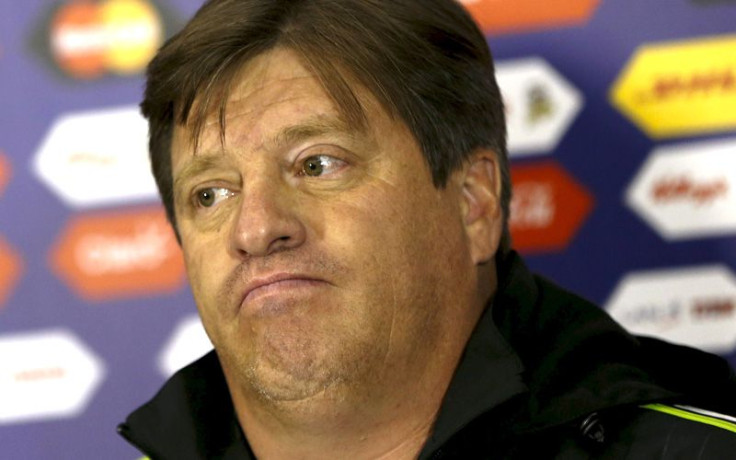 Miguel "El Piojo" Herrera has broken his silence after he was fired as the Mexico soccer coach after an alleged altercation with a sportscaster. "Through this channel I direct myself to you after what happened during the last hours," the statement reads. "I want to apologize publicly to the fans, support team, players, the Mexican Soccer Federation (FMF), directors and press for my behavior in the embarrassing incident that I had with a sports commentator. It is clear to be that this is not the attitude that the Mexican National Team coach should have taken, even though my family and I have received all types of criticism, offenses and teasing."
"To the great Mexican fandom, I am grateful for all the support during my process as coach, all the support during my tenure to the FMF, I understand the decision that was made and I respect it. I am profoundly saddened of leaving the position as coach of this team for this unfortunate cause, because the results have been, mostly, positive within the objectives set. I take this opportunity to thank all the press for their collaboration during my process. I hope you understand the moment I am going through. I will take the opportunity to enjoy my great family and relax, I will then return being the same person and you will have, as always, open doors."
After a night of celebration, "El Piojo" was not having it with a TV Azteca sportscaster that had been criticizing him for a while now. Christian Martinoli had been egging Herrera on social media. About a month ago they both had an exchange on Twitter with a threat coming from the Mexican coach. "I love the elegance of the national coach. He is not a cheerleader he is 'barrabrava.'" This last term seemed to offend the soccer manager, which has grown to be a synonym to "hooligan." Herrera replied with the following message: "I am not that but hopefully I will find you someplace so we can settle our differences."
Fast forward one month and Mexico taking home the trophy and Miguel Herrera got his wish. David Medrano, an Azteca reporter, tweeted: "[Christian] Martinoli and Luis Garcia were in line going through security [at the airport] when Herrera arrived and punched him on the neck." Medrano went on to later talk to Ciro Gómez Leyva from Radio Fórmula to expand on the incident. "Christian and Luis arrived at the airport at around 7:20 in the morning to the Delta terminal and that's where the first contact was made. They encountered Miguel Herrera, his daughter and people dressed in civilian clothes that we couldn't identify if they were part of the team. They registered their luggage and go ahead to security. As they are going upstairs, Miguel Herrera comes and throws a punch at Christian. Due to the height difference, the contact was made to his neck and not his face. Christian moves, he hits him in the neck."
© 2023 Latin Times. All rights reserved. Do not reproduce without permission.