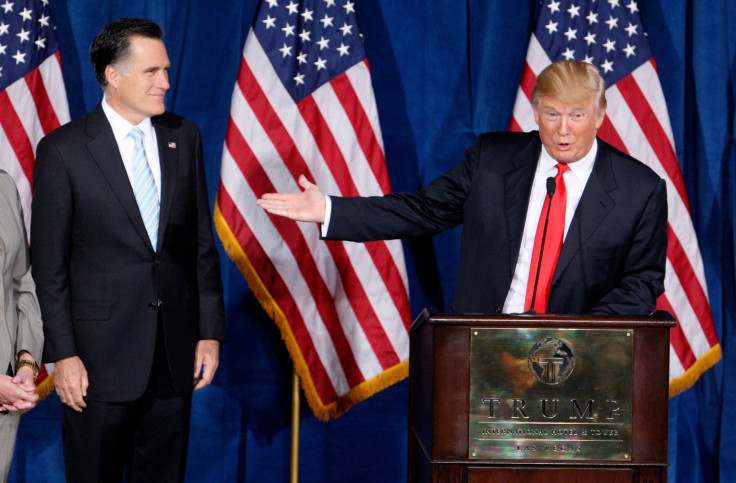 Mitt Romney took to Facebook on Friday to announce that he is voting for GOP presidential candidate and Texas Sen. Ted Cruz in the Utah primary. The post, which does not endorse Cruz for president, reiterated Romney's pledge to work to stop Donald Trump from becoming the Republican nominee by supporting his most popular opponents in each state primary race in order to force a brokered convention. Trump reacted angrily on Twitter, calling Cruz a "liar" and Romney a "mixed up old man who doesn't have a clue," adding that Romney lost his own presidential race in 2012 when he was the Republican nominee.
As many have pointed out, a brokered convention would allow Romney -- and anyone else -- be considered for the nomination. A brokered convention will occur at the summer GOP convention if Trump fails to secure the majority (51 percent) of delegates. Trump has argued that he should be awarded the nomination even if he wins a plurality (the highest percentage) even if he doesn't get the majority of delegates and has warned that there would be "riots in the streets" if he lost. Trump still has the possibility of getting a majority, but his rivals do not.
"Today, there is a contest between Trumpism and Republicanism. Through the calculated statements of its leader, Trumpism has become associated with racism, misogyny, bigotry, xenophobia, vulgarity and, most recently, threats and violence. I am repulsed by each and every one of these," Romney said in his statement. "The only path that remains to nominate a Republican rather than Mr. Trump is to have an open convention. At this stage, the only way we can reach an open convention is for Senator Cruz to be successful in as many of the remaining nominating elections as possible."
Trump's remarks, posted below, strongly disagreed with Romney's tatics. However, he may have second-guessed issuing the "mixed up old man" insult, having quickly deleted the post.
This week, in the Utah nominating caucus, I will vote for Senator Ted Cruz. Today, there is a contest between Trumpism...

Posted by Mitt Romney on Friday, March 18, 2016
© 2023 Latin Times. All rights reserved. Do not reproduce without permission.