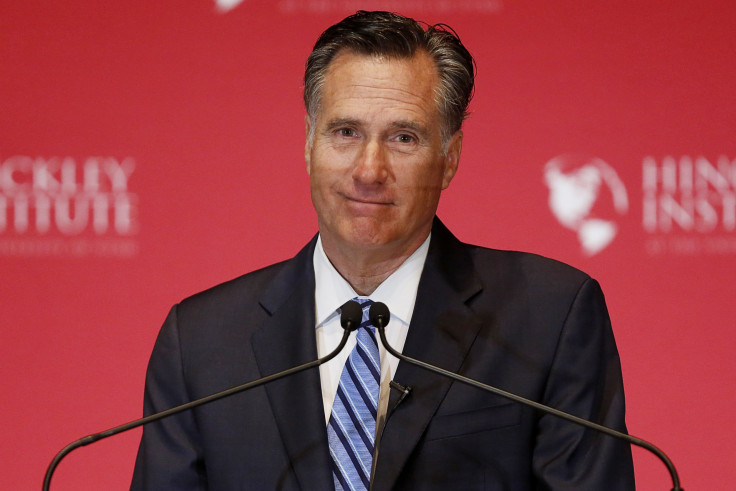 Mitt Romney took to a podium in Salt Lake City on Thursday to trash Donald Trump. He didn't endorse another Republican candidate. He didn't announce another candidacy of his own. Instead, the 2012* Republican nominee made a concise simple plea to Republican voters: don't vote for Donald Trump. Romney, a former Utah governor and hedge fund manager, attacked Trump's flip flops as well as his business acumen. Romney repeated previous calls for Trump to release his tax returns and to authorize the New York Times to publish an "off the record" conversation on his immigration policies.
"I predict that there are more bombshells in his tax returns," Romney said, according to a transcript prepared by Politico. "I predict that he doesn't give much if anything to the disabled and to our veterans. I predict that he told the New York Times that his immigration talk is just that: talk. And I predict that despite his promise to do so, first made over a year ago, he will never ever release his tax returns. Never."
Romney's salvo represents the scramble of the GOP establishment to stop Trump from winning the party's nomination. And what better way to evoke the spirit of the that establishment than with references to Ronald Reagan, whom Romney mentioned three times in his speech. Romney began with a reference to the former president's "Time for choosing" speech, acknowledging that reagan's speech was aimed at electing Barry Goldwater, who later lost his 1964 campaign. Romney ended with a reference to Reagan's Last address to the American people at the end of his second term.
"[Donald Trump's] domestic policies would lead to recession," he said. "His foreign policies would make America and the world less safe. He has neither the temperament nor the judgment to be president. And his personal qualities would mean that America would cease to be a shining city on a hill."
Reagan's "City upon a hill" (first John F. Kennedy's, and John Winthrop's before that) was deeply tied to his pro-immigrant policy. Reagan signed the 1986 Immigration Reform and Control Act, which gave amnesty to thousands of immigrants who were in the country illegally at the time. His farewell address was used this political season at the first Republican debate in a pro-immigration ad.
"I've spoken of the shining city all my political life," Reagan said, "but I don't know if I ever quite communicated what I saw when I said it. But in my mind it was a tall, proud city [...] teeming with people of all kinds living in harmony and peace; a city with free ports that hummed with commerce and creativity. And if there had to be city walls, the walls had doors and the doors were open to anyone with the will and the heart to get here."
Romney's argument is that Trump's economic policies, personal qualities and immigration proposals would tarnish Reagan's conception American exceptionalism. But as Rich Lowry points out on Politico, "fealty to the Gipper is no longer the price of entry."
Neither are prepared or eloquent speeches. Trump will likely ignore Romney's arguments or offer the a simple rebuttal: and "loser."
* Full disclosure: I was a paid staffer for the Democratic party during that campaign in 2012.
Here's a bit more about that "City on a hill."
© 2023 Latin Times. All rights reserved. Do not reproduce without permission.