Pizza is probably one of the most adored foods in the world, and people eat it to cheer themselves up on bad days. With their current endeavor to create the largest pizza in the world, the American international restaurant business Pizza Hut is exhibiting their dedication to and affection for this Italian cuisine.
According to a report from Reuters, this world-record pizza will contain more than 68,000 slices and measure 13,990 square feet in size. It is presently being put together in the Los Angeles Conference Center in the US, where a vast team of chefs are spreading out large amounts of dough, tomato sauce, cheese, and pepperoni.
In total, 13,653 pounds (6,193 kilograms) of dough, 4,948 pounds of pizza sauce, more than 8,800 pounds of cheese and roughly 630,496 pieces of pepperoni went into making the record-breaking pie.
The inventors have chosen to utilize a cooking device that moves over the pizza pieces and slowly cooks them because there is no oven that could possibly fit such a massive pizza.
Pizza Hut's president, David Graves, told Reuters that after the record has been confirmed, any leftover pizza and food supplies will be donated to nearby food banks, ensuring that no food will be wasted in this quest to break the record.
Construction on Pizza Hut's massive world record-breaking pie started on Wednesday, but it took the pizza business an achingly lengthy two days to gain the Guinness team's formal approval that they had accomplished their cheese-infused feat.
The restaurant claims that the pizza has "six foldable slices" that can be folded and eaten like the standard $1 slice you could find at a New York pizza pizzeria, reports dailymail.co.uk.
According to Pizza Hut, it has already broken the record for the highest pizza delivery on land. In 2016, the pizza was brought to the 19,341-foot summit of Tanzania's Mount Kilimanjaro.
Customers "have been begging" Pizza Hut to bring back the Big New Yorker pizza for more than 20 years, according to the company's president, David Graves.
A team of Italian chefs broke the previous Guinness record for the largest pizza in the world in 2012. Ottavia was the name given to their 1,261.65 square meter gluten-free pizza.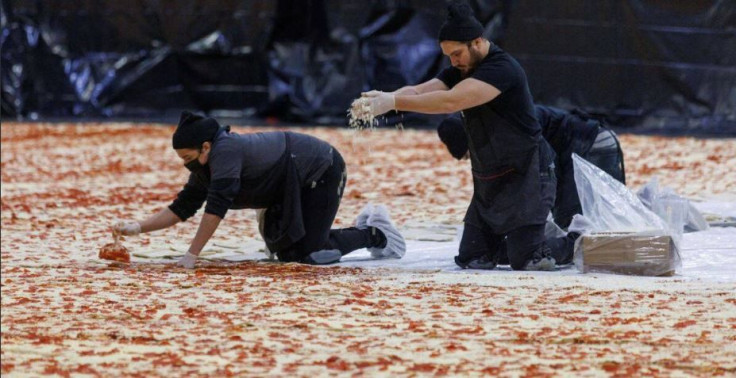 © 2023 Latin Times. All rights reserved. Do not reproduce without permission.