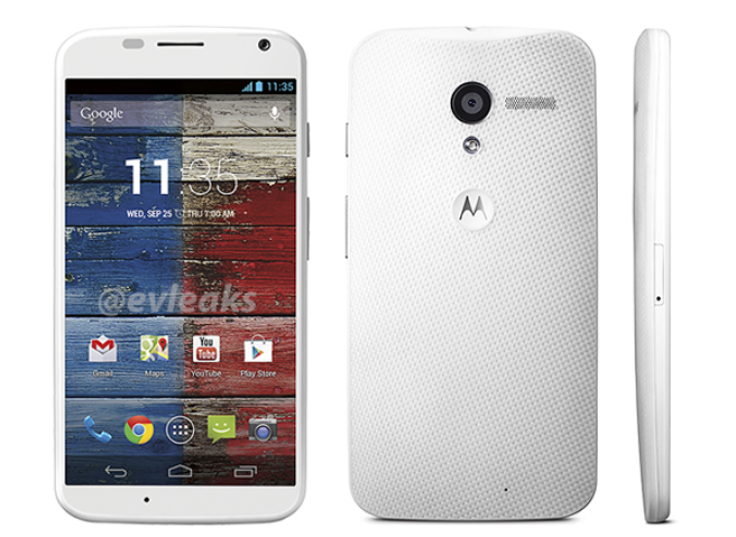 Google is going to give fans a look at the new Motorola smartphone, the Moto X, August 1. But until then some images have leaked thanks to a Twitter user. The new leaked images show off a glimpse of the new handset from every angle.
After numerous rumors and even Google's executive chairman Eric Schmidt openly displaying the phone in front of the press there is little revelation on the smartphone.
The back of the Moto X shown in the leaked pic sports the textured, carbon fiber-like plate with a small Motorola logo near the center. The side profile of the Moto X appears slim and an even thinner end. However, the image doesn't explain is Google and Motorola's claims about the Moto X being the first smartphone you "design yourself."
IGN reports that fans should pay attention to the home screen saying:
"One last note: the home screen of the Moto X in the image sports a date of September 25. While that's quite a long time for a release date following an August 1 reveal, if it turns out the launch date is September 25 remember we said so."
Are you excited for the new Moto X smartphone from Motorola and Google?
RELATED:
Watch Google Press Event Online: Get Live Stream Of Google's Announcement Of Android 4.3, Nexus 7 2 And More [VIDEO]
'Moto X' Motorola Phone To Be First Smartphone Made In America; Manufacturing Facility To Bring 2,000 Jobs To Fort Worth, Texas
Verizon Announces New Droid Line: The Ultra, Maxx and Mini Smartphones [PHOTOS]
© 2023 Latin Times. All rights reserved. Do not reproduce without permission.