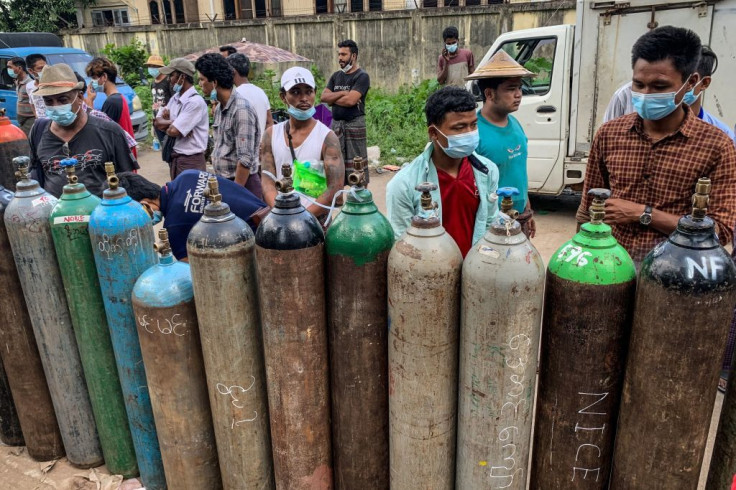 Myanmar, where military seized control in February, is devastated due to the pandemic. Many people are reportedly waiting in queue for hours for oxygen in various cities and the severely ill are forced to die at home as hospitals have less staff members and don't have sufficient equipments.
According to CNN, there are images from Yangon that show families of the infected people waiting at oxygen plants hoping to refill tanks, and crematoriums are full of mourners.
According to ABC, military have dismissed or detained several medical professionals in connection with their involvement in the civil disobedience movement (CDM). The participants protested against the illegitimacy of the military junta in a non-violent manner. These doctors continued to provide emergency and essential health care services to people despite participating in the movement. But the military attacked several health care facilities and arrested them.
And now that Myanmar is facing its worst Covid-19 outbreak, medical professionals and volunteers have blamed the military of using the pandemic as a weapon against the public. They said that the military has restricted critical oxygen sales to the public and refused to admit infected people at hospitals run by the military.
On Wednesday, the health ministry reported 6,093 new Covid-19 cases. This takes the total to 246,663. The confirmed death toll from coronavirus is now 5,814.
One doctor said that they are seeing patients deteriorating and dying every single day. According to Joy Singhal, head of the Myanmar delegation of the International Federation of Red Cross and Red Crescent Societies, in recent days around a third of people tested in Myanmar are positive.
A woman volunteer is associated with a group in Yangon that try and deliver oxygen tanks and other supplies to people who post their requirements on social media. She said that she reads many posts where people plead to save them, but she can't do much as she is not a doctor. She added that she can only give them access to oxygen when she can get hands on cylinders.
The military junta reportedly said that it banned a few private oxygen plants from selling to the public to stop them from hoarding.
Kyaw Naing (not his real name), said that nine members of his family in Yangon have contracted coronavirus, and they find it is difficult to get oxygen or even get admitted to a hospital. He said that he read notices saying that now the military will stop providing oxygen supplies to the public. He shared that on one hand, they are saying that they are using oxygen for private and public hospitals. But at the same time, these public hospitals are not admitting Covid-19 patients.
Doctors, nurses and other experts have been called to volunteer at public hospitals and Covid-19 centers, but medical professionals said that the military cannot guarantee their safety and they are scared of getting arrested and being tortured.
According to Tom Andrews, UN special rapporteur for human rights in Myanmar, there have been 240 documented cases of attacks on health care facilities and medical professionals.
Doctors are forced to go into hiding to avoid getting arrested. But they have created underground networks of clinics and tele-consultation services to help the public.
The most recent outbreak is believed to have started approximately a month ago in western Chin state.
Some of the doctors said that while there was shortage of medical staff and less testing was done, previous Covid-19 waves in Myanmar were brought under control. But after the military coup, Covid-19 testing, prevention measures and the vaccine program collapsed.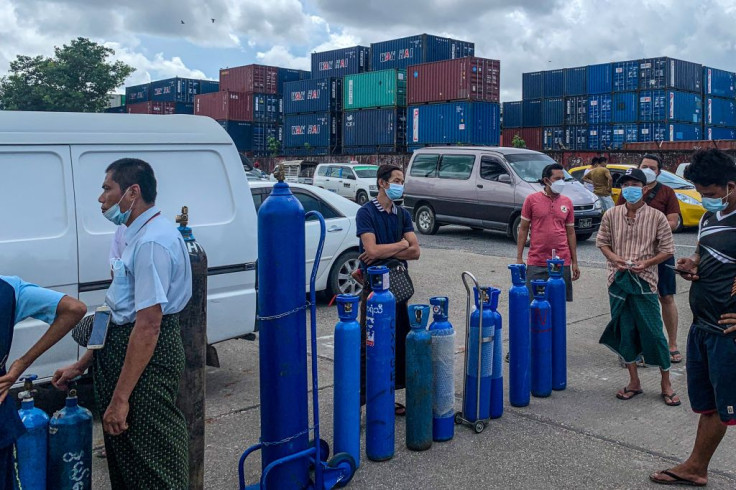 © 2023 Latin Times. All rights reserved. Do not reproduce without permission.