Ray Allen played a key role when the Boston Celtics won the NBA title in 2008. It was the franchise's 17th title and there is no denying that he along with Paul Pierce and Kevin Garnett made that happen.
At Kevin Garnett's retirement ceremony, the 46-year-old who drew criticism for moving to the Miami Heat in 2012 to join LeBron James, Chris Bosh and Dwyane Wade was in attendance. Rather than expect a hostile welcome, it was the exact opposite.
No less than Garnett himself acknowledged Allen for being in attendance alongside other Celtic members of the 2008 squad. That includes Paul Pierce and Kendrick Perkins among others.
It should be noted that the 6-foot-5 guard was not around when Pierce had his jersey retired by the Celtics.
"It's good to see Ray Allen here," Garnett said.
Allen, who was shown on the Jumbotron at that time beside Perkins, got up and approached Garnett where they shook hands and embraced. Not long after, Pierce would join them and hugged both of them as well.
All three were in attendance at All-Star weekend when they were honored as members of the NBA's 75th-anniversary team. All three were seen smiling in a photo, a reunion that may have patched things up and set the recent reunion at Boston.
Garnett also told Allen that he would be the next player whose jersey would be retired in Boston.
Seeing Allen's number retired is a given. His outside shooting was a huge factor for the Celtics, particularly during his stint from 2007 to 2012. But aside from the 10-time All-Star, there are other players expected to follow.
Aside from Allen, Rajon Rondo also deserves feting. The 36-year-old remains active in the NBA, currently playing for the Cleveland Cavaliers. The Cavs had a game on Monday, something that prevented him from being at Garnett's jersey number retirement ceremonies which was understandable.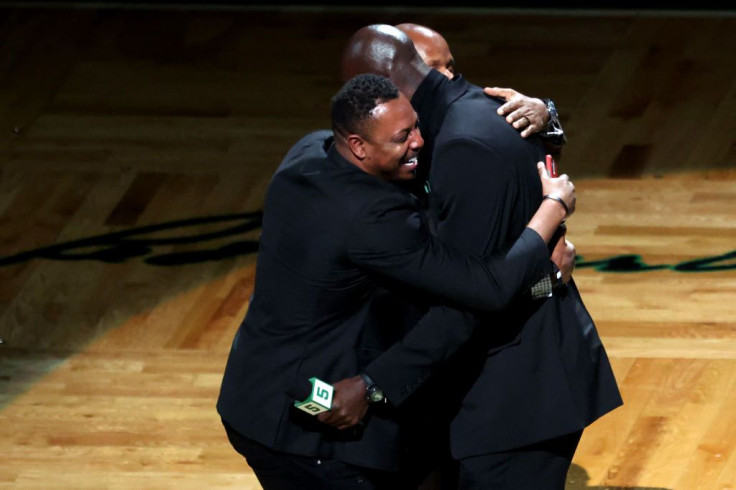 © 2023 Latin Times. All rights reserved. Do not reproduce without permission.