The Milwaukee Bucks continue to figure out what went wrong last NBA season and each position and player are likely to be evaluated. A curious player to watch out for is Brook Lopez. After Giannis Antetokounmpo and Khris Middleton, the 7-footer was up there helping the Bucks win games.
Unfortunately, his efforts were not enough and a reason for that is the lack of more player support. Though he stood prominently last season, the Bucks could tweak their roster and adapt a new kind of system. They do have the two-time NBA MVP in tow but it remains that there will be casualties this offseason. That could include Lopez who has three years left in his current deal worth roughly $39.8 million per Spotrac.
Though Lopez has contributed on both sides, there are questions on his mobility. Though he has thwarted shots of opposing teams, his slow feet are singled out as one of the weaknesses that should get the Bucks thinking.
To his credit, Lopez is a big man that can help out any team silently. The only problem is that his tenure, since invading the league in 2003 has not been rewarding. Before the Bucks, he had stints with the Brooklyn Nets and the Los Angeles Lakers. But somehow, he has yet to find that right team where he can be that precious.
For the Bucks, dealing away Lopez would depend if they can get someone who would be more effective. Agility and speed are the two main traits that head coach Mike Budenholzer will be looking for. If not that, it also depends if the Bucks will change their style and go for a faster-paced game.
If that is the case, offering Lopez for other players could make sense. However, it raises questions on their defensive prowess. With the 10th overall pick of the 2008 NBA Draft around, opposing teams have found it hard to score against Milwaukee. Hence, any potential replacement not only needs to be quicker but also effective on both ends of the floor.
There are several names to consider in the free-agent market. Among those available includes Hassan Whiteside, Marc Gasol, Bismack Biyombo and Tristan Thompson. There are plenty of big men who are more agile than Lopez although their fit to the Bucks is up for debate.
Lopez is someone hard to pass up for the Bucks. But if they can find someone better, it could be part of bigger things. That includes keeping Antetokounmpo in the fray. The "Greek Freak" has yet to sign a new deal but adding a key player for a better run this 2020-21 season could seal the deal for the Bucks.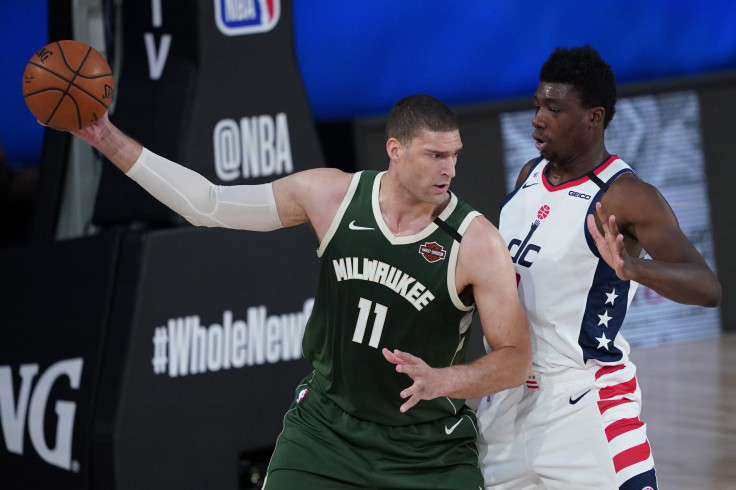 © 2023 Latin Times. All rights reserved. Do not reproduce without permission.