NBA teams will try to move and take in new players for the 2020-21 season to improve on last season's performance. The Milwaukee Bucks appear to be already souped though they still failed to improve on their previous season finish. They fared worse in the postseason.
This was despite the efforts of Giannis Antetokounmpo. Though he made it back-to-back MVP awards, it remains that the "Greek Freak" still had a lot of areas that need improvement. Aside from that, he lacked the support in the crunch, meaning the Bucks will need to shop around for another big name. A name that has cropped up is Bogdan Bogdanovic of the Sacramento Kings.
Bogdanovic will be a restricted free agent this offseason and is expected to get his share of suitors. The Kings can match any offer for the Serbian, provided that it is reasonable and within their boundaries.
For the Bucks, it would take a big offer to reel in Bogdanovic. This is where things get a bit tricky. Milwaukee doesn't have the salary space, meaning they will be forced to enter the luxury tax area. Regardless, The Athletic reports that Milwaukee is ready to resort to that level for as long as they can acquire that important third superstar in the mix.
Also, the Kings could be trimming their backcourt since they are pretty stacked in the guard position. Buddy Hield is in the mix and new general manager Monte McNair may be open to giving up a guard and skim the market for a player that would fit positions that need beefing up.
But it remains that Bogdanovic is someone that needs a second look. Last season, the 28-year-old played in 61 games and averaged 15.1 points, 3.4 rebounds, and 3.4 assists per Basketball-Reference. Those are important numbers they stand to lose and could be a benchmark for players they will be taking in.
Hield and the rest of the Kings could make up for that by upping their game next season. It all depends on McNair and the efforts of head coach Luke Walton. The Kings are coming off another disappointing season but are hoping the change in general manager can result in a better showing moving forward.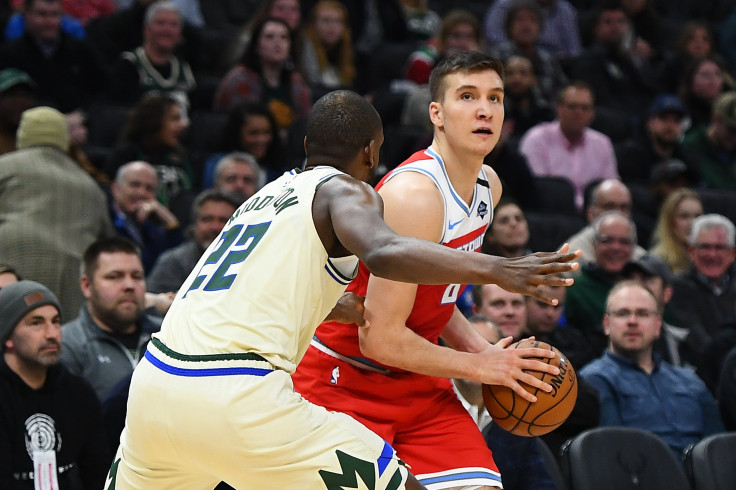 © 2023 Latin Times. All rights reserved. Do not reproduce without permission.