Like most NBA players who have a player option before the next season starts, Kentavious Caldwell-Pope is exercising his right despite winning his first NBA title with the Los Angeles Lakers. Considering KCP went through a stormy stay the past years in Hollywood, it is about time the 27-year-old seeks something bigger in return.
Caldwell-Pope was slated to make $8.5 million this 2020-21 NBA season if he had opted in. But as most expected, KCP knows he is due for a big pay raise and will try the feasibility of that happening. However, it should be made clear that despite opting out, the Lakers can still re-sign him at a higher salary. But the obstacle seen headed towards that is the team budget.
For the Lakers, the top guy that needs to be re-signed is Anthony Davis. Like Caldwell-Pope, Davis also has a player option. And to no one's surprise, the 27-year-old is planning to opt out to get a bigger paycheck. No numbers have been given out but the new deal is expected to be huge.
Looking at KCP's numbers, his numbers hardly justify getting paid a hefty salary. Some would say that he is lucky to be getting paid that much. But Caldwell-Pope's value to the Lakers, or any other team for that matter, goes beyond his production averages. He is a defender and can sink shots when the team needs to be bailed out.
In the playoffs alone, Caldwell-Pope normed 10.7 points in 21 games. Before that, he was only putting up 9.2 points, 2.1 rebounds and 1.6 assists per Basketball-Reference.com. Some may say that it was due to the lack of self-confidence - something KCP discovered in the playoffs. One can only imagine his level of confidence now, backed by the fact that he is now officially an NBA champion.
If not the Lakers, one team who could use someone of Caldwell-Pope's caliber is the Atlanta Hawks. Trae Young needs help and KCP could be the guy that the Hawks need. Beyond Los Angeles and Atlanta, several other teams are likely to explore options with Caldwell-Pope in the offseason.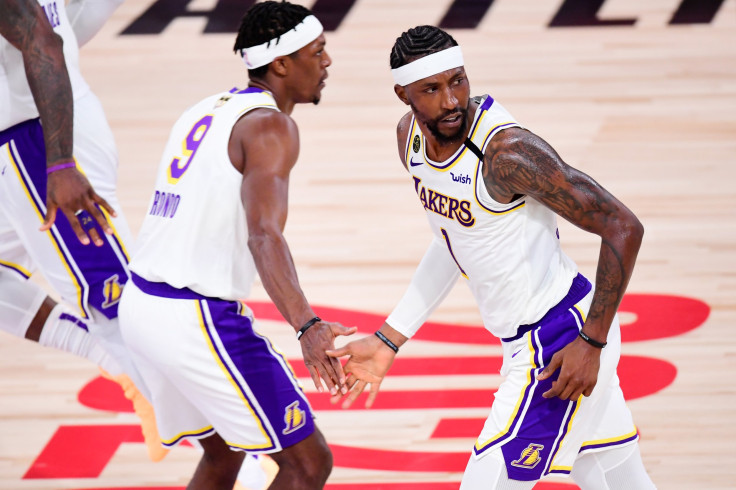 © 2023 Latin Times. All rights reserved. Do not reproduce without permission.