Tyler Herro just wrapped up his rookie year with the Miami Heat with a lot of NBA teams taking notice. Hence, it comes as no surprise that there are clubs considering making a move on the 13th pick of the 2019 NBA Draft.
Last season, Herro put up a performance that hardly showed he was a rookie. Though his regular-season averages of 13.5 points, 4.1 rebounds and 2.2 assists hardly told the story, the 6-foot-5 guard had a remarkable playoff performance. That included a 37-point explosion in game 4 of the Eastern Conference finals against the Heat, Forbes reported.
But Herro did more than that. He quietly got into the record books, setting the record for a rookie who has scored in double-digits in 20 games in the postseason, USA Today reported. He eclipsed the previous mark held by Alvan Adams of the Phoenix Suns in 1976.
Given he made a good account of himself, there are possibilities over the horizon. But if any NBA team wants to try and pry Herro away from them, it will have to be a big name. That player needs to be along with the ranks of Giannis Antetokounmpo of the Milwaukee Bucks or Bradley Beal of the Washington Wizards, Zach Harper of The Athletic reported.
Though he made a splash, no NBA team is likely to agree to that. Instead, a package involving Kendrick Nunn, Duncan Robinson and some future picks could be more reasonable.
For the Bucks that could be an option, especially if they fail to hook up Antetokounmpo. The Greek Freak is set to become a free agent next offseason unless the Bucks can offer him a new deal. Beal, on the other hand, is a long shot considering the Wizards seem bent on keeping him.
Another name suggested is Victor Oladipo of the Indiana Pacers. Unfortunately, he is a player that may not convince the Heat to give up Herro. Given that Miami has a young stock of players, coach Erik Spoelstra is likely to stick with that core rather than take a chance on someone who is coming off an injury.
Hence, any team looking to get Herro may have to wait. But the only thing that appears to be certain right now is that the 20-year-old is not leaving South Beach for the 2020-21 NBA season.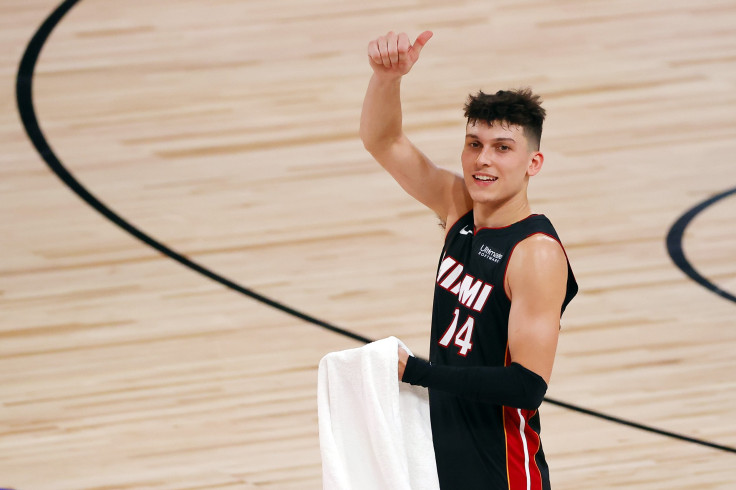 © 2023 Latin Times. All rights reserved. Do not reproduce without permission.