The Washington Wizards have joined the Russell Westbrook chase although there is no assurance that it will go down. With most teams wary about matching the money requirements to land the former NBA MVP, offering John Wall in exchange could offset that. But would it make sense?
Westbrook is looking for a new home and the Wizards have reportedly opened discussions with the Houston Rockets. The only problem is that this has not gained any traction with Houston wanting more assets for the deal to go down per a report from Shams Charania of The Athletic.
Wall has been out for quite some time due to several injuries. The last was an Achilles injury and there is no telling how the 30-year-old is right now. Further, he has been prone to injuries, raising some questions on his durability if Houston does take him in.
Westbrook would be a big addition for the Wizards, someone who could help boost their chances next season. But a problem that could surface is how he would blend in with Bradley Beal.
Similar to his stint with the Rockets where he shared the limelight with James Harden, the same is expected in Washington. Beal is the top dog for the Wizards and will continue to do so.
In Westbrook, the Wizards would get someone who can easily boost their offense. Last season, the 32-year-old guard played 57 regular season games averaging 27.2 points, 7.9 rebounds and 7.0 assists. But most know that if the need calls for it, Westbrook can easily average a triple-double all-season long.
Westbrook did this with the Oklahoma City Thunder, the time when Kevin Durant jumped to the Golden State Warriors. With the Wizards, he does not need to push himself that hard with Beal also known to explode.
For now, all this is wishful thinking. Westbrook wants out and there are other teams linked to him. That includes the New York Knicks and the Charlotte Hornets.
With James Harden also headed out, the Rockets could be without two top stars for the 2020-21 season. Transactions are expected to pick up soon with all eyes on where Westbrook and Harden may play next.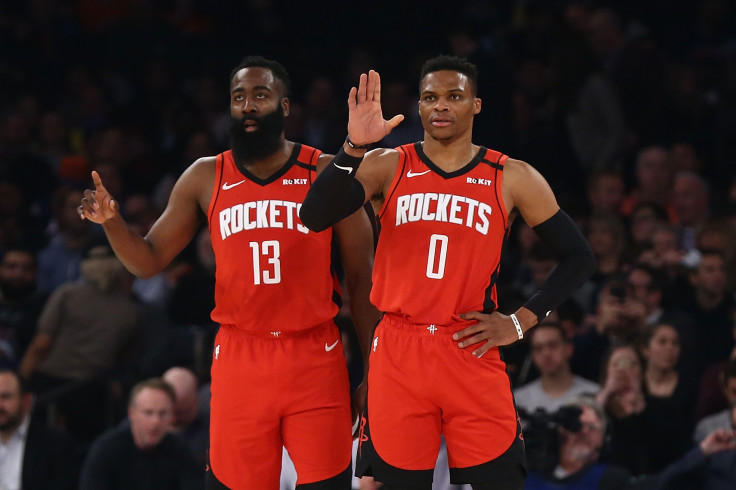 © 2023 Latin Times. All rights reserved. Do not reproduce without permission.