The Milwaukee Bucks are on the cusp of adding that much-needed third star to play alongside Giannis Antetokounmpo and Khris Middleton. Bogdan Bogdanovic of the Sacramento Kings is reportedly headed to Milwaukee via a sign-and-trade deal. However, this deal will only be made official by Sunday once free-agent signings are permitted.
Bogdanovic's move to the Bucks was first reported by Adrian Wojnarowski of ESPN. Aside from the Serbian, the Bucks will also get Justin James as part of the multiplayer trade. In return, the Kings will receive Donte Divincenzo, Ersan Ilyasova and DJ Wilson.
Seeing the 28-year-old leave Sacramento was something mode had expected. Bogdanovic rejected a $51.4 million extension from the Kings and most speculated an imminent exit, the Sacramento Bee reported.
As mentioned in a previous post, it was mentioned how it would take much for the Bucks to get a Bogdanovic trade done. Regardless of the money involved, Milwaukee was prepared to go over the luxury tax to get that much-covered third superstar.
With Bogdanovic on board, it will be interesting if Antetokounmpo will finally sign that max deal that most are talking about. The two-time NBA MVP has yet to sign on the dotted line and that could follow after the Bucks' series of moves this offseason.
Aside from Bogdanovic, Milwaukee also landed Jrue Holiday from the New Orleans Pelicans. In return, the Bucks sent Eric Bledsoe, George Hill, three future first-round picks and two additional Draft pick swaps, NBA.com reported.
The Bucks are going all out this 2020-21 NBA season, hoping to get that second NBA title. Their first one came in 1971.
With Bogdanovic, head coach Mike Budenholzer gets the much-needed outside artillery that Milwaukee needs. Antetokounmpo did a yeoman's job last season but struggled in the playoffs. Middleton and Brook Lopez tried to provide support but this was not enough.
Bogdanovic played in 61 games last season averaging 15.1 points, 3.4 rebounds and 3.4 assists in 29 minutes of action with the Kings. He owns a high 53.2 percent shooting from the field and 37.2 percent from the three-point country. Clearly, these are numbers that will boost the Bucks campaign.
Holiday would also be another good addition. Like Bogdanovic, the 30-year-old guard played in 61 games but had better production. He averaged 19.1 points, 6.7 assists and 4.8 rebounds last season. He owns a 50.9 percent shooting clip from the field and 35.3 percent from beyond the arc.
With two new quality recruits, Budenholzer and the Bucks have little reason not to reach the NBA Finals at the least. But then again, other teams could improve like the Brooklyn Nets. James Harden has been linked to a possible move out East, making this 2020-21 season pretty exciting to look forward to.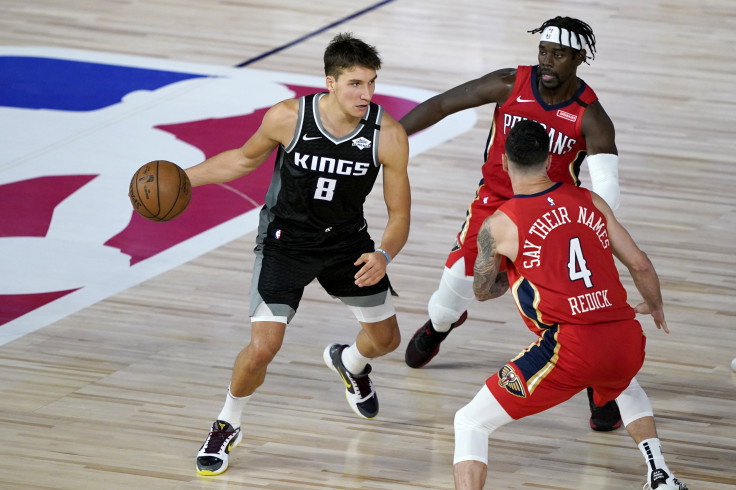 © 2023 Latin Times. All rights reserved. Do not reproduce without permission.