The Milwaukee Bucks look to zero in on Bogdan Bogdanovic of the Sacramento Kings although it will be a bit complicated. The Bucks do not have the luxury of salary cap space, meaning they are prepared to enter the luxury tax area.
However, it was mentioned in a previous post that it would take a lot for this deal to go down. Only a huge offer could persuade the Kings to part with Bogdanovic. The problem with that is Sacramento could always match that offer since they know the value of having the Serbian player.
Hence, a simple way to land the 28-year-old shooting guard is a sign-and-trade deal. There is no telling how much money would be involved. But the Bucks appear to be bent on taking in Bogdanovic. ESPN's Zach Lowe reported that adding Harrison Barnes to the mix is something Milwaukee is open to doing.
Most would question why the name of Barnes was included in the mix. The 7th pick of the 2012 NBA Draft will make $22 million this 2020-21 NBA season and the Kings could benefit if they move him out. Kings' general manager Monte McNair is trying to figure out who to keep and who to let go, aware that they have an overloaded backcourt.
Buddy Hield is still there and there is the curious case of De'Aaron Fox. If the Kings can strike a deal with the Bucks to unload the money due to Bogdanovic and Barnes, that would give McNair some breathing room. It allows them to hand Fox a contract extension and potentially explore the market for other top NBA cagers to the mix.
It would be best to take these plans with a grain of salt for now. Lowe added that it remains unclear if talks have gone down between both sides as of this writing. While it all makes sense, there remains no assurance that the Kings and the Bucks will sit down and talk of a potential deal.
For the Kings, they can save themselves the trouble if they hand Bogdanovic a contract extension. It prevents the 28-year-old from exploring opportunities with other teams assuming Sacramento is bent on keeping him in the mix.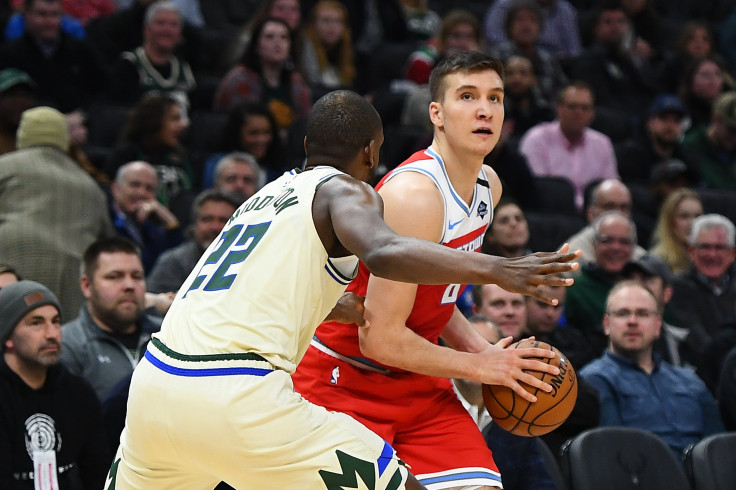 © 2023 Latin Times. All rights reserved. Do not reproduce without permission.