Dennis Schroder could feel a bit sheepish right now though Los Angeles Lakers fans may not delve with that. After initially saying he has no interest in joining the Los Angeles Lakers and the Los Angeles Clippers, the German guard finds himself on the cusp of joining the former.
The Lakers have agreed in principle with the Oklahoma City Thunder for the services of Schroder. Danny Green, the player who got a lot of interest from other teams, will be part of the deal along with whoever Los Angeles picks as their 28th overall pick.
Having traded their first-round pick last offseason as part of the Anthony Davis trade, the Lakers will be unable to send their 28th pick for the 2020 NBA Draft outright. The league prohibits teams from trading first-round picks for consecutive years, ESPN reported. Hence, finalizing the deal may not be made until after the 2020 NBA Draft.
As for Schroder, there is no question that he is a great pickup. But the question now is loyalty. After saying on the MagentaSport podcast that he does not want to go to the Lakers or the Los Angeles Clippers, it will be interesting how fans will accept him. His loyalty and sincerity will be on the radar for the coming season.
But for as long as he plays well, Schroder should fit in well. Last season, the 27-year-old made a good account of himself. He suited up for 65 regular season games averaging 18.9 points, 4.0 assists and 3.6 rebounds. Those are good numbers that Lakers coach Frank Vogel would enjoy in their NBA title-retention drive.
However, the impending coming of Schroder also hints that any return plans of Rajon Ronod or Avery Bradley have become dimmer. Both players are opting out to test free-agency with hopes of getting higher pay. So far, Rondo has been linked to the Clippers.
As for Green, he moves to his fourth NBA team. He is a three-time champion although most will remember him for that big NBA Finals game 5 miss. Regardless, he remains a key player on both ends for teams in search of a 3-and-D player.
Though he is being acquired by the Thunder, the latest is that he may not play a single game for OKC. Legion Hoops tweeted that the club is already shopping him, meaning he is bound for another club. The only question now is which team will that be?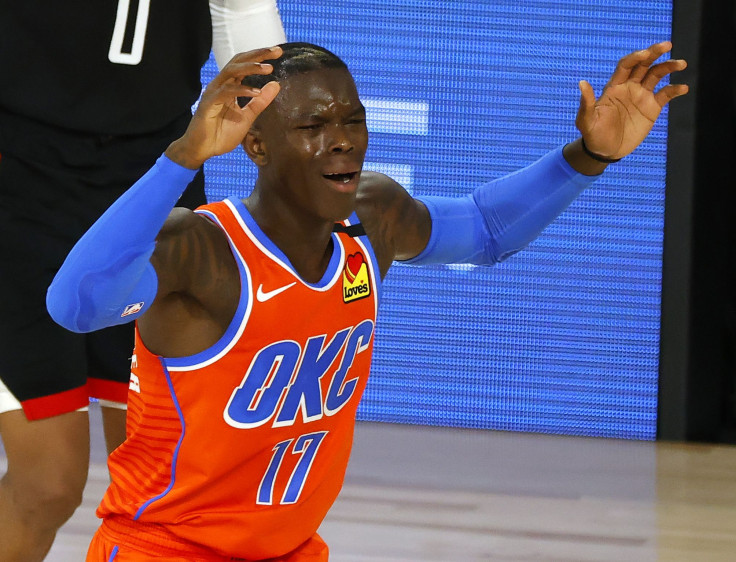 © 2023 Latin Times. All rights reserved. Do not reproduce without permission.